Activities resume at Benapole land port after 6 days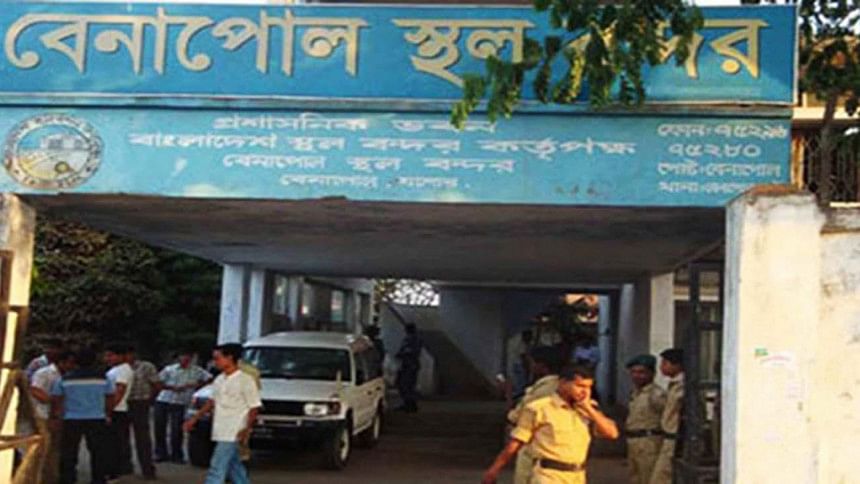 Export and import activities have resumed today at Benapole land port after six days' vacation for the holy Shab-e-Qadr and Eid-ul-Fitr.
Most of the customs employees of the land port have returned after the vacation but it will take another day before all the government and non-government employees return and the port becomes busy with its usual activities, Mofizur Rahman Sazan, president of Benapole Customs Clearing and Forwarding Agents Association, told our local correspondent.
Around 80 per cent raw materials for garments industry is imported through this land port and the government earns a revenue of Tk 19 crore every day, he said.
Uttam Chakma, assistant commissioner at Benapole Custom House, said, 145 trucks of goods have been imported and 70 trucks of goods have been exported through the port till 3:30pm today.
Prodosh Kanti Das, director of the port, said that instructions have been given for the speedy clearance of customs for benefitting the businessmen.
Meanwhile, Indian High Commissioner to Bangladesh Riva Ganguly Das visited Benapole-Petrapole land port and check-post this afternoon.
She made the visit to witness the export-import activities at the land port and movement of passport carrying travelers from the two countries.
It is mentionable that Tk 30 thousand crore worth of trade takes place through the land port yearly.
Officials of Customs, land port, administration, police and other officials welcomed the Indian envoy after she reached at the Benapole check-post.