Illegal Sand Lifting: AC (land), three others assaulted during drive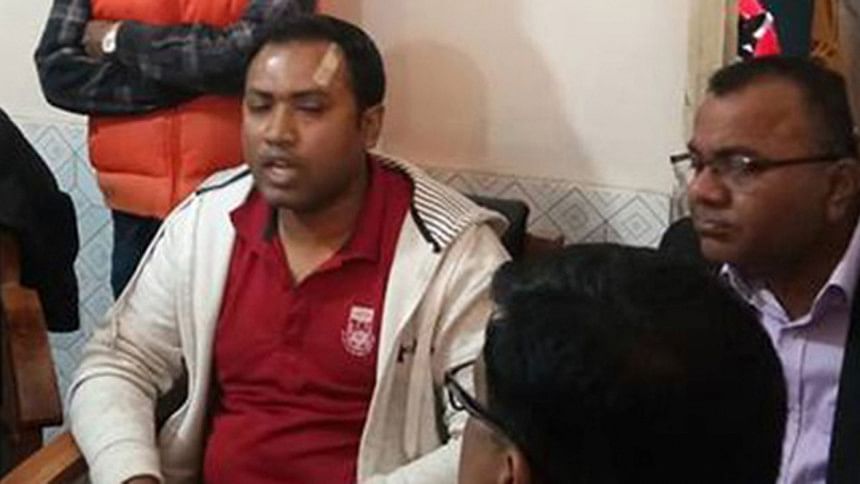 Illegal sand lifters allegedly assaulted an assistant commissioner (land) and three others in Rajshahi's Bagha upazila, when they went for an inspection in Harirampur area near the Padma yesterday.
Upazila Nirbahi Officer (UNO) Shahin Reza said the incident occurred around 12:30pm when a team, led by the AC-Land Imrul Qayes, went to the spot after being informed about illegal sand lifting.
"I sent him [Imrul] to enquire about the people who are illegally lifting sand," he said.
When Imrul began questioning the labourers who were lifting sand, a group of workers swooped on him with canes and bamboo sticks.
"The men also kicked and punched him," Shahin said, adding that the attackers forced him and the other officials to leave the area.
Imrul and his driver Polin received primary treatment at Bagha Health Complex. They were later taken to Rajshahi Medical College Hospital, said Rajshahi's Deputy Commissioner (DC) SM Abdul Kader.
Two other officials of the Land Office -- Rajib and Shamsul -- received minor injuries and were given first aid, he added.
Sanjay Kumar Pal, medical officer of Bagha Health Complex, said Imrul's injuries were severe.
"His face was bloodied when he was brought to us. He had a cut on his forehead and injury marks on his head, and around the eye, nose and other body parts," he said, adding that Imrul's driver needed a few stitches on his nose.
The attackers snatched the AC land's smartphone. 
Locals said they face the problem of river erosion due to the illegal sand mining, adding that Nawshad Ali, brother-in-law of former Bagha municipality mayor and Awami League leader Akkas Ali, was involved in the illegal activity for several months.
Contacted, Bagha AL General Secretary Ashraful Islam said Nawshad had no connection with the AL.
"We condemn the attack and demand the immediate arrest of those responsible," Ashraful said.
"None of the attackers will be spared," DC Kader said, adding that police have deployed several teams to arrest the attackers.
The UNO said a case was filed with Bagha Police Station in this regard.