Road crashes kill 9
Two children among dead; 14 others injured in three accidents in Gazipur, Feni, Faridpur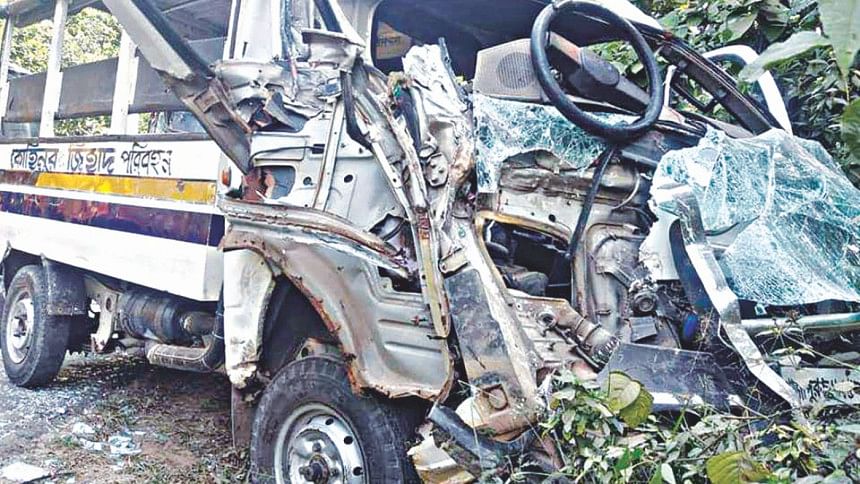 At least nine people, including two children, were killed and 14 others injured in three accidents in Gazipur, Faridpur and Feni yesterday.
In Gazipur, four people were killed and 10 others injured when a bus, carrying garment workers, and a human haulier collided head-on at Gazipur's Rajendrapur-Kapasia road around 7:45am.
The dead were identified as Nazim Uddin, 58, and Abdus Samad, 62, from Sirajganj; and retired army sergeant Mizanur Rahman, 50, and Tarun Ratul, 18, from Munshiganj, said Mohammad Siraj, traffic inspector of Gazipur Metropolitan Police (GMP).
He added that all the dead and injured were passengers of the human haulier.
By the time police reached the spot around an hour later, locals had rescued the injured and sent some of them to Rajendrapur Cantonment Hospital.
The recovered dead bodies and six of the injured -- Nishan Ahmed, 28, Khairul Islam, 40, Dulal, 43, Khalil Miah, 38, and two others -- were taken to Gazipur Shaheed Tajuddin Ahmad Medical College Hospital, said Pranay Bhusan Das, a resident physician of the hospital. The bodies were kept in the hospital morgue for autopsies.
Dulal was later shifted to Dhaka Medical College Hospital due to critical injuries.
Police sources said they seized both vehicles involved in the accident.
Similarly, at least four people, including two children, were killed and two others injured when a passenger bus and a CNG-run auto-rickshaw collided head-on in Urul Miar Tek area on the Feni-Basurhat road around 2:15pm.
Police officials and witnesses said when the bus, on its way to Basurhat from Feni, reached the area near Dudhmukha Bazar it collided with the auto-rickshaw coming from the opposite direction.
All the passengers and the driver of the auto-rickshaw were injured in the accident, police sources said.
They were taken to hospital. Two of the injured died on the way to Feni Adhunik Sadar Hospital and another died while being taken to Basurhat Hospital, while one child died on the way to Chittagong Medical College Hospital (CMCH), they added.
The dead were identified as Khadiza Begum, 45, and her son Md Shakil, 12, and her nephew Abdur Rahim, 3, of Feni; and auto rickshaw driver Md Ismail, 30, of Noakhali.
Abdul Quader, on-duty doctor at Feni Adhunik Sadar Hospital, said of the two other injured, one was taken to CMCH and the other to Dhaka Medical College Hospital.
Officer-in-Charge of Dagonbhuiyan Police Station Md Abu Zafar Saleh said police seized the bus but its driver fled the scene.
In Faridpur, a man was killed and two others injured when a pick-up and a truck collided head-on, on the Dhaka-Barishal Highway in Peyarpur area of Faridpur around 2:30am.
The dead was identified as Md Raju, 38, of Panchagarh, the driver of the pick-up.
Quoting locals, Md Saifuzzaman, senior station officer of Faridpur Fire Service, said, "After the accident, three were injured, including the driver of the truck and Raju. All of them were taken to Faridpur Medical College Hospital, where an on-duty doctor declared Raju dead."
He added that police seized both the vehicles involved in the accident.