UP polls: Clashes halt voting at 5 centres
13 BNP chairman candidates boycott polls in Natore, Brahmanbaria and Noakhali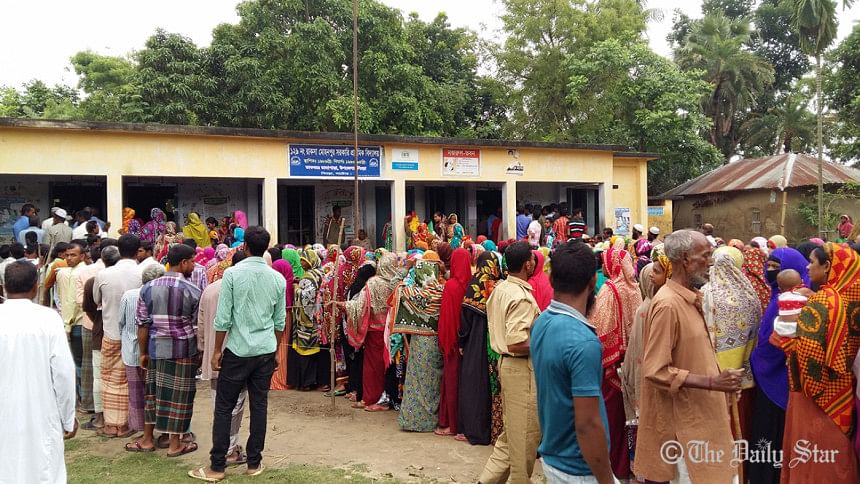 Voting at five polling centres were suspended due to violence in two districts and 13 BNP chairman candidates boycotted polls in three districts during the fifth phase of union parishad election today.   
At least six people were killed in separate incidents of election violence in Jamalpur and Chittagong.
Among the deceased, four people were killed and 50 others including policemen were injured in a clash in Bahadurbad union of Dewanganj upazila.
Meanwhile, 13 BNP chairman candidates boycotted the polls citing vote rigging and bringing other allegations in Natore, Brahmanbaria and Noakhali.
Jamalpur
Following the clash authorities suspended voting at Kutharpara Ebtedai Madrasa polling centre in Bahadurabad union in Dewanganj upazila around 10:00am, said Shariful Haque, additional superintendent of police of the district.

Also READ: Polls: Chased by lawmen, man hits wall, dies

Besides, voting at three polling centres -- Adra Government Primary School, Sishua Government Primary School and Purbo Phulbaria Government Primary School of Sarishabari upazila – were suspended on charge of irregularities in Dewanganj upazila around 9:30am
Harun-Ur-Rashid, BNP chairman candidate of Bhatara union, also boycotted the election saying that ruling party men allegedly stuffed ballot papers.
Munshiganj
Voting at Bhitikandi Government Primary School polling centre in Bhaberchar union in Sadar upazila was suspended at 3:00pm after five people were hurt in an incident of ballot looting, Mahbuba Bilkis, upazila nirbahi officer, told our Munshiganj correspondent.   
The attackers looted a ballot box and blasted several cocktails at the polling centre around 1:30pm, our Munshiganj correspondent reports quoting Sawkat Alom Mozumder, a judicial magistrate. 

READ more: UP polls: 5th phase of voting starts
   
In the fifth phase of UP elections, people are casting their votes in 14 unions in the two upazilas. In a total of 135 polling centres were established in six unions in Sadar and eight unions in Gazaria upazilas.
Natore
Six BNP candidates for the post of chairman in Shigra and three in Boraigram upzilas boycotted the ongoing union parishad polls.
Among them, Sherkol union BNP chairman candidate Maizanur Rahman and Shukash union BNP candidate Abdul Quddus decided to boycott the elections in Shingra upazila, bringing allegation that supporters of their rival candidates occupied several polling centres and barred voters from casting votes.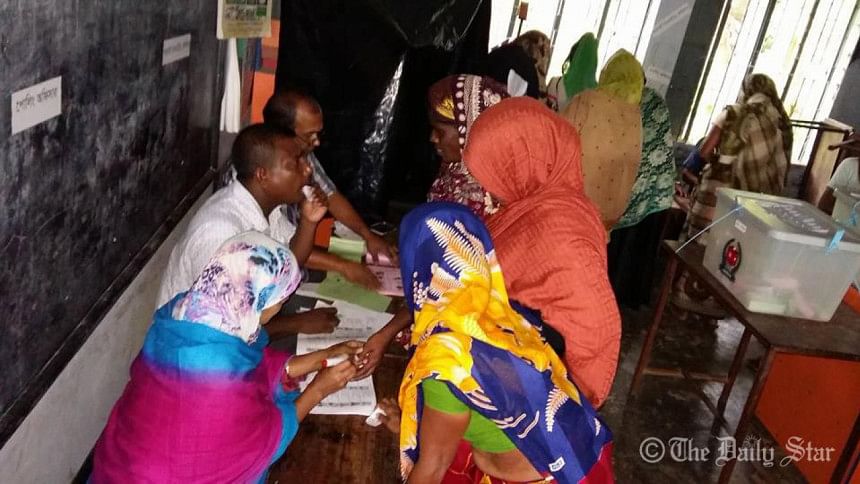 Aminul Huque, district BNP general secretary, confirmed it to our Natore correspondent.
Yesterday, Hazrat Ali, a chairman candidate from Nagar union in Boraigram upazila-3, quitted the race citing absence of "congenial atmosphere".  
He made announcement at a press briefing at local BNP office at Alaipur in the town last night, said our Natore correspondent.
Hazrat Ali decided to step down from the election bringing allegation that the people of Awami League candidate Nilufar Yasmin Dona threatened his family and supporters, who had been campaigning for him.
"For ensuring their security of his family, supporters and voters, I have decided not to run the polls," he said at the briefing.
Confirming the incident, Assistant Presiding Officer Wares Ali told The Daily Star, "We have forbidden them not to cast any vote forcefully, but they ignored."
"I immediately informed the presiding officer about the rigging," he added.
Presiding Officer Shahadat Hossain said the criminals rigged some votes in the center. 
Brahmanbaria
UNB reports, three BNP-backed chairman candidates boycotted the election race in three union parishads in Sadar upazila on charges of various irregularities.
The three chairman aspirants--Abul Kashed of Uttar Natai, Mobarak Munshi of Suhilpur and Nazrul Islam of Purba Talshahor union--announced the election boycott hours into the start of the balloting.
The candidates pulled out of the race on charge of obstructing their supporters from casting votes, forcing their agents out of the centres and also casting fake votes.
District BNP general secretary Jahirul Haque Jahir confirmed the boycott.
Noakhali
In Noakhali, Jalal Uddin, a BNP-backed chairman candidate of Choyani union in Senbagh upazila, boycotted the election on charge of various irregularities including vote rigging, UNB adds.