UP polls violence claims 10 lives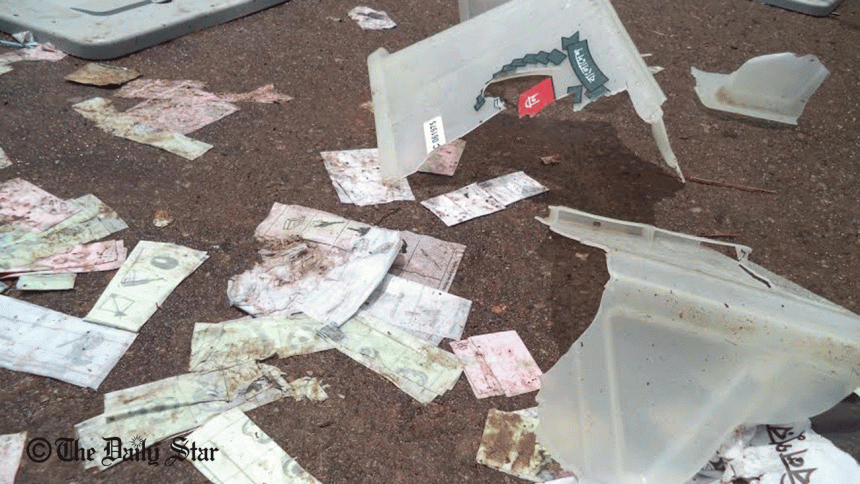 At least 10 people were killed in separate incidents of election violence in Jamalpur, Chittagong, Noakhali and Comilla districts during today's fifth phase of union parishad polls.
The deceased included a chairmand and member candidates and supporters of candidates while the injured included policemen as well, our local correspondents report.
Previously, the grass root level elections had already claimed the lives of 101 people, as counted by a civil society platform. Today's casualties take the toll higher.
In Jamalpur, four people were killed and 46 others including policemen were injured in a clash in Bahadurbad union of Dewanganj upazila, said Mostasinur Rahman, officer-in-charge of Dewanganj Police Station.
The deceased were identified as: Majed, 15, Nurul Islam, 55, Ziaur Rahman, 35, and Nabirul Islam. Of them, Majed died on the spot, Nurul and Ziaur died while on way to a local health complex.
In Chittagong, three separate incidents of violence were reported – one in Patiya upazila and the other in Karnaphuli area of the city.
A member candidate, Md Yasin, was killed – stabbed to death by one of his rivals – in Barauthan union around 1:00pm near Shah Mirpur Government Primary School voting centre, said Harun-or-Rashid, deputy commissioner (port) of Chittagong Metropolitan Police.
Supporters of a rival member candidate swooped on him with sticks and knives, he said. The victim was declared dead when rushed to Chittagong Medical College Hospital.
In Patiya upazila's Ashia union, Babul Shil, 50, died in a clash between rival member candidates, our correspondent reports quoting Saiful Islam, sergeant of Patiya Highway Police Station.
Another victim named Md Hossain, 30, who was injured in a clash at Fakirnir Hat area in the upazila, died at Chittagong Medical College Hospital (CMCH) this evening.
Assistant Sub Inspector (ASI) Pankaj Barua of CMCH police outpost said Hossain was admitted to the hospital with injury marks of lethal weapons in his body in the afternoon.
Meanwhile, an on duty presiding officer of Kazipara government primary school polling centre at Haidgaon uion in Patiya upazila died this evening due to severe illness.
Deceased Manjur Ahmed Nuri, 55, was a professor of Pashimchal Islamia Fazil Degree Madrasa in Patia upazila, said Debarati Chowdhury, medical officer of the upazila health complex.
Nuri felt sick and suddenly fell down on the ground during counting votes of the centre around 4:30pm. Doctors declared him dead after he was taken to the hospital, Debarati told our local correspondent.
The victim might die due to cardiac arrest, the doctor said.
In Noakhali, two people were killed and four others sustained bullet wounds in separate clashes in Begumganj and Senbag upazila while voting at 81 polling centres were suspended following the clashes there.
The deceased were identified as Sayed Ahmed, 65, of Khonar Bari union and Shakil, 17, of Jirtali Union in Begumganj upazila. 
Sayed sustained injury after he crashed into a wall while running with many others being panicked over probable violence at Rajganj Darul Ulum Senior Madrasa polling centre around 11:00am, said Sajedur Rahman, officer-in-charge Companiganj Police Station.
Doctors at Noakhali General Hospital declared him dead, said the police official who was on duty there.
Shakil was injured in a clash between supporters of two candidates at KB Union High School poling centre, said Sajedur Rahman Sajid, officer-in-charge of Companiganj Police Station. 
He was admitted to a local hospital with critical injury.  As his condition deteriorated, he was referred to Dhaka Medical College hospital. Shakil succumbed to his injuries on the way to Dhaka, the police official told our Noakhali correspondent.
Meanwhile, Md Monir Hossain, senior district election officer, said that voting at 55 polling centres were suspended due to snatching ballot papers, breaking ballot box, rigging in Begumganj upazila while 26 centres in Senbag upazila for the same reasons. 
In Comilla, a rival candidate of BNP was stabbed to death during the election in Titas upazila.
Deceased Md Kamal Uddin was allegedly stabbed by the supporters of a pro-BNP chairman candidate at Nagerchar government primary school centre in at Balarampur union around 3:00pm, a Daudkandi correspondent reports quoting ASM Abdun Nur, officer-in-charge (investigation) of Titas Police Station.
Kamal was taken to the upazila health complex in critical condition where the doctors declared him dead, the police official said.