False Claim over St Martin's: Again, envoy of Myanmar summoned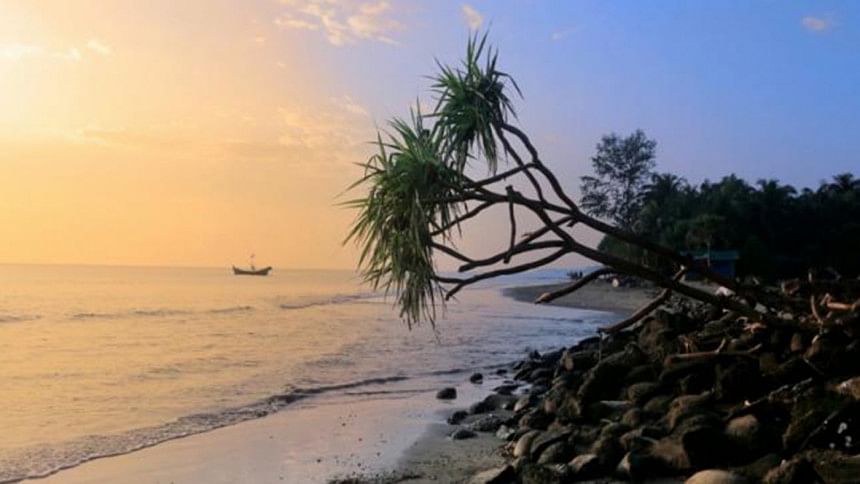 Amid escalating diplomatic tension between Dhaka and Nay Pyi Taw, Bangladesh Foreign Ministry again summoned the Myanmar envoy here and lodged a strong protest as Myanmar continues to claim Saint Martin's island as its territory.
Handing a "strongly worded" protest note to Myanmar's Chargé d'affaires Aung Kyaw Moe, Dhaka yesterday demanded immediate corrective measures and urged Nay Pyi Taw to act responsibly and refrain from making such false claims.
"This is absolutely unacceptable," the ministry said in its note.
Delwar Hossain, director general of the South East Asia Wing of Foreign Ministry, who summoned the Myanmar CDA, told reporters that Myanmar official websites which showed Saint Martin's island as their territory remained inaccessible for a few months after Bangladesh protested last October.
"But we have been seeing the false claims of Myanmar from earlier this month," he added.
The Myanmar CDA yesterday admitted that the map was false and pledged to take corrective measures by a day.
Bangladesh had lodged a formal protest on the issue on October 6, 2018. In reply, Myanmar affirmed through a note verbale on October 21, 2018 that "…the organisation has also removed all links which falsely mentioned about Saint Martin's Island."
However, with great concern, Bangladesh officials noticed that the advanced interactive map on the website of the Department of Population under the Ministry of Labour, Immigration and Population of Myanmar (www.dop.gov.mm), continues to show the similar data gradients (population, land type, etc) for the Saint Martin's Island of Bangladesh as those of Myanmar.
Moreover, websites of Myanmar Statistical Information Services (www.mmsis.gov.mm) shows the Saint Martin's island with the same colour as that of Rakhine state, while a different colour has been used for other parts of Bangladesh.
 "Continuation of such misrepresentation, despite the assurance on the part of Myanmar for effective measures to permanently redress the issue, could therefore be construed as a deliberate attempt of Myanmar," the foreign ministry said in yesterday's protest note.
The note also pointed out that all entities, particularly the government organisations, are supposed to publish only authentic information on their websites and official documents. Owners of the websites/documents have to assume all responsibilities of any contents related therein, regardless of its preliminary sources.
"Myanmar cannot deny her responsibilities of this utter misrepresentation just adding a disclaimer. This is absolutely unacceptable," the note reads.