My freedom of expression is probably threatened: Imran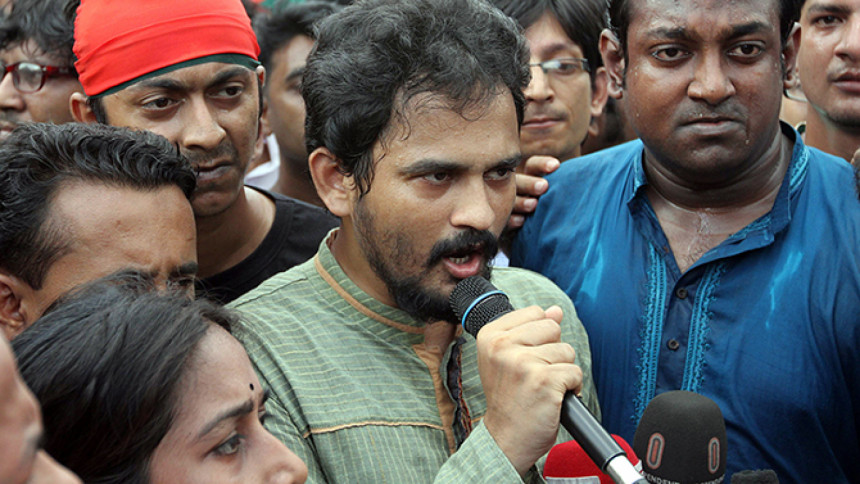 Gonojagoron Manch leader Imran H Sarker today said his freedom of expression has been probably threatened as he talked in favour of the right.
His comment came a day after Sajeeb Wazed Joy criticised him for condemning the arrest and subsequent police remand of pro-BNP journalist Shafik Rehman on Saturday.
"In my status I wrote it clearly that I am not supporting the ideology of Shafik Rahman, even I never asked for his release. I am being attacked even for this. This shows how little respect the society now has for dissenting opinions," Sarker wrote in a Facebook post today.
The point that one can fight for someone else's rights even without coming in agreement with his views is becoming dying out from the society, the Gonojagoron Manch spokesperson lamented.
"Nearly one thousand people were murdered in the first three months of this year. Can anyone say that a single person has got justice?" Sarker said.
"Won't someone get justice if s/he is not the child of the prime minister?"
Imran H Sarker asked whether the family of slain college student Shohagi Jahan Tonu would ever get justice because her father is a fourth grade employee.
He also vowed to continue his movement against injustice ignoring all the bloodshot eyes.
Yesterday, Joy came down hard on Sarker, terming him "liar and opportunist".
Also ICT adviser to the Prime Minister Sheikh Hasina, he wrote in a Facebook post: "The US Department of Justice discovered Shafik Rehman's direct involvement in the plot to kidnap and kill me. They provided this evidence to our government. He was arrested based on this evidence. I cannot disclose more, but the evidence is direct and irrefutable."
"I expected the BNP to try to lie about this. However, I am surprised at Imran Sarkar. Perhaps he has finally exposed his true face. It looks like he has become like most of our civil society, another opportunist and a liar."
Joy also wrote about a possibility that the BNP "paid him off". "Who knows. Either way, I have lost all respect for him. He needs to retract his statement and apologize to our government."