'Murder Plot' Against Joy
Mahmudur to be shown arrested
Says DB official; evidence against Shafik came from US Justice Dept: Joy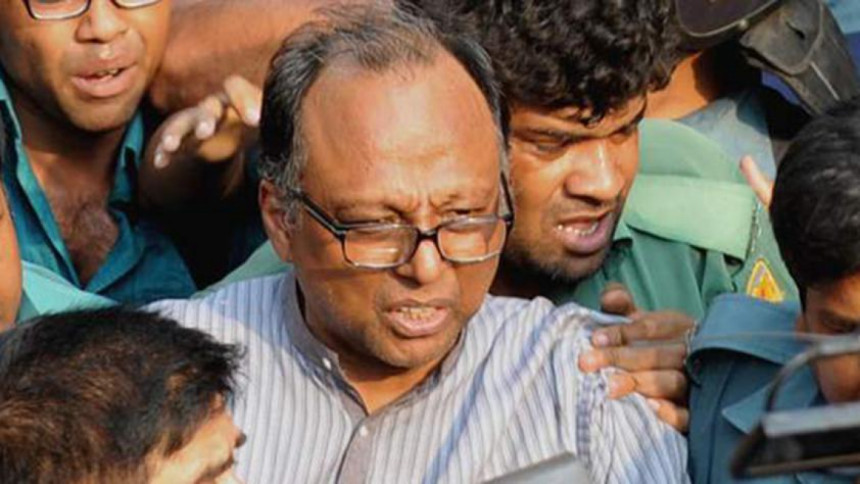 Detectives are likely to show daily Amar Desh Editor Mahmudur Rahman arrested in the case filed for alleged attempts to abduct and murder Prime Minister Sheikh Hasina's son Sajeeb Wazed Joy, said a top DB official yesterday.
"As we are getting information regarding Mahmudur Rahman's link to the plot, we'll show him arrested and pray before a court for an order placing him on remand," the official told The Daily Star, seeking anonymity.
Mahmudur Rahman, a pro-BNP journalist and a former energy adviser, has been behind bars since April 2013.  
The DB official also said the name of one Chittagong-based businessman, who now lives in the US, has also come up in their investigation, he added.
In the same case, senior journalist and a pro-BNP intellectual Shafik Rehman is on a five-day remand following his arrest from his house in the capital on Saturday morning.
Regarding the arrest, Sajeeb Wazed Joy, also ICT adviser to the prime minister, in a Facebook post yesterday said, "The US Department of Justice discovered Shafik Rehman's direct involvement in the plot to kidnap and kill me."
He also said, "They provided this evidence to our Government. He was arrested based on this evidence. I cannot disclose more, but the evidence is direct and irrefutable."
Meanwhile, Rehman's wife Taleya Rehman yesterday met two officials at British High Commission -- head of counsellor service Hasina Rahman and Emily Summers of political section to discuss her husband's situation.
Taleya Rehman, also executive director of Democracywatch, a non-government organisation promoting good governance and democracy, said the embassy officials told her that the British government is "seriously concerned" over the arrest of the 80-year-old journalist and writer.
"I have requested the UK embassy officials to ensure that Shafik, as a UK citizen, is not harassed and the government dose not violate his human rights."
In response, the officials assured her that they would look into the welfare of Shafik since he is also a UK citizen, she told The Daily Star at her Eskaton residence.
'ARREST ON SPECIFIC ALLEGATION'
Information Minister Hasanul Haq Inu at a press conference at the Press Information Department yesterday said Shafik Rehman, Mahmudur Rahman and journalist leader Shawkat Mahmud were arrested on specific allegations, not for being journalists.
"The mass media is not under any pressure," Inu said.
Shawkat Mahmud was arrested on August 18, 2015 in an arson case filed on January 28 the same year.
Mahmudur Rahman was arrested on April 11, 2013 in cases including one over publishing a leaked Skype conversation between a war crimes tribunal judge and an expatriate Bangladeshi legal expert.
Also yesterday, Law Minister Anisul Huq said, "The matter is now under investigation. If he [Shafik Rehman] is found innocent in the investigation, he will be released.
"But trial proceedings will go on if the allegation against him [Shafik Rehman] is proved."
The minister was talking to reporters after inaugurating a training course at city's Judicial Administration Training Institute.
At another programme, Home Minister Asaduzzaman Khan said two to three people from within Bangladesh were involved in the conspiracy to abduct and kill Joy.
He was addressing a discussion at Bilia Auditorium at Dhanmondi in the city, marking the historic Mujibnagar Day.
Asked about Shafik Rehman's arrest, the home minister said, "You [journalists] know everything … there was a plot to kidnap and kill our ICT adviser Sajeeb Wazed Joy in the USA. Those who were arrested there in connection with the plot had conversations with two to three people in Bangladesh. Shafik Rehman might have link with them."
Meanwhile, BNP Secretary General Mirza Fakhrul Islam yesterday termed "inhuman" the remand of journalist Shafik Rehman.
Talking to reporters after visiting Rehman's Eskaton residence in the city, he demanded that the journalist be released upon scrapping his remand.
Fakhrul along with BNP Vice-Chairman Abdullah Al Noman and BNP Chairperson's Adviser Abdul Awal Mintoo went to Rehman's house around 2:00pm and talked to Taleya.
"False charges are being brought against those who oppose the government and hold divergent views. They're being harassed and arrested in one way or the other. It can't be accepted putting a veteran journalist like Shafik Rehman on remand," he said.
Fakhrul and Taleya had a brief one-on-one meeting.
'UNFOLLOW IMRAN' 
Joy in the Facebook post also came down hard on Imran H Sarker, the spokesperson of Gonojagoron Mancha, terming him "liar and opportunist".
"I expected the BNP to try to lie about this. However, I am surprised at Imran Sarkar. Perhaps he has finally exposed his true face. It looks like he has become like most of our civil society, another opportunist and a liar. Maybe the BNP paid him off. Who knows. Either way, I have lost all respect for him. He needs to retract his statement and apologise to our Government."
He added, "I urge all my friends and fans who follow him to unfollow/unfriend him on Facebook. He is speaking on behalf of a criminal who tried to kill me."
Imran in a Facebook post on Saturday night condemned the arrest and remand of Shafiq Rehman and said arrest of a veteran journalist on hollow allegation is frustrating.
He, however, said he doesn't subscribe to Rehman's political view. 
Last night, asked for his reaction to Joy's comment, Imran said it's unexpected.
"It seems while trying to defend one's freedom of speech, my freedom of speech is now at stake," he told The Daily Star around 10:30pm. 
THE CASE
Masrukur Rahman Khaled, deputy commissioner of Detective Branch (south), told this correspondent that they were investigating the charges of attempts to abduct and murder Joy, who lives in the US.
"He [Rehman] has been arrested since his involvement was found," he added.
The case was filed by DB Inspector Fazlur Rahman with Paltan Police Station in August last year.
In the case, police mentioned the name of Mohammad Ullah Mamun, vice-president of BNP's cultural wing Jasas, as a conspirator.
The case statement says Mamun and some top leaders of the BNP and its allies met in the UK, the US and in the capital's Paltan and other parts of the country before September 2012 and conspired to abduct and kill the PM's son.
In March last year, Mamun's son Rizve Ahmed Caesar was convicted by a US court for bribing an FBI special agent to collect information regarding a Bangladeshi political figure.
The US Justice Department did not name the figure, but it is thought that it was Joy.
In a Facebook post on March 9 last year, Joy accused BNP leaders of conspiring to abduct and kill him.