Missing friend of Tonu's brother returns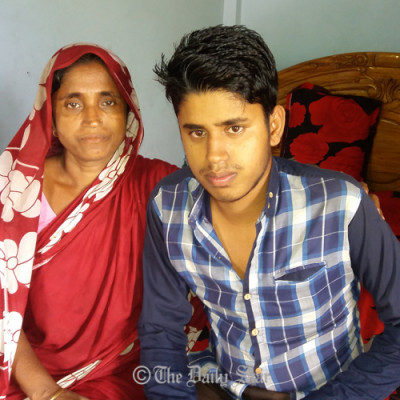 Mizanur Rahman, a friend of the younger brother of slain college student Sohagi Jahan Tonu, returned home safely early today 16 days after he went missing from Comilla.
Locals found Mizanur standing beside the Dhaka-Chittagong highway, 200 yards off his Narayansar village home in Burichang upazila, when they were taking morning walks around 5:30am, his elder sister Khaleda Akhter confirmed The Daily Star.
Mizanur was picked up by people posing as policemen on March 28 from his village home hours after he tried to communicate with Tonu's brother Anwar Hossain Rubel, watching Rubel's interview on television on the murder of Tonu, according to his family members.  
READ MORE: Protests rage on over Tonu murder
No law enforcement agency has yet admitted to detaining Mizanur.
Mizanur could not say anything about his whereabouts as he was blindfolded all the time, Khaleda told the correspondent today quoting Mizanur.
But he is fit and fine as the kidnapper gave him food on time, the sister quoted Mizanur.
ALSO READ: Army helping in probe into Tonu murder
Tonu, 19, a second year history student of Comilla Victoria College and a member of Victoria College Theatre, was found murdered inside Comilla Mainamati Cantonment in the night of March 20.
The incident sparked off widespread protests across the country.