Mashrafe's 'Safety Chamber' for doctors, health workers opens in Narail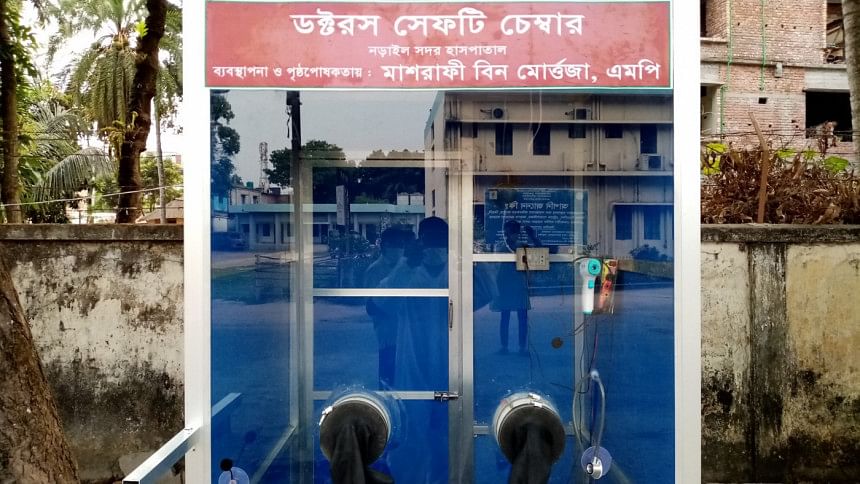 A service called "Doctors' Safety Chamber" has been set up in front of Narail Sadar Hospital to ensure safety of its doctors, nurses and other staff members working on the front lines, taking care of coronavirus patients.
The initiative has been funded by Mashrafe Bin Mortaza, lawmaker of Narail-2 constituency and former captain of the national cricket team, reports our Bagerhat correspondent.
A doctor will stay inside a glass chamber and use gloved hands through openings to check patient's blood pressure and body temperature through a thermal detector, said Sadar Hospital RMO Mashiur Rahman Babu.
If they detect coronavirus symptoms in a patient, they will send him or her to the isolation ward, he said.
Outdoor and emergency patients can avail services here.
The doctors will communicate with the patients through a sound system installed in the chamber, the RMO said.
Members of the 'Bangabandhu Squad', formed in Narail, will work as volunteers there under the supervision of Sadar Hospital authorities.
Deputy Commissioner of Narail Anjuman Ara inaugurated the chamber yesterday.
Mashrafe has already provided PPEs for doctors and nurses, formed a mobile medical team and also set up a disinfection room in Sadar Hospital to deal with coronavirus in his constituency.