Ireland Tri-Nation Series, 4th Match
Bangladesh win by 8 wickets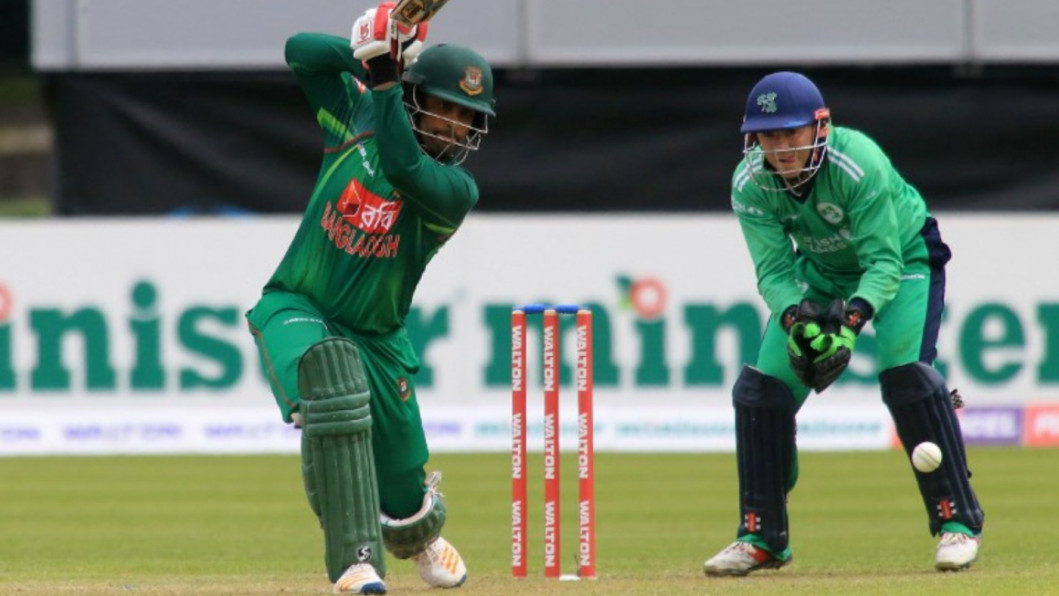 An all-round performance from Bangladesh enabled them to overwhelm Ireland by eight wickets with 137 balls remaining in the fourth match of the Tri-Nation Series at Dublin (Malahide) today.
Chasing 182, Bangladesh rode on the opening partnership of 95 between Soumya Sarkar and Tamim Iqbal followed by the 76-run stand to win the match quite comfortably in the end. Soumya was 87 not out. He faced only 68 balls and struck 11 fours and two sixes during his match-winning knock. Tamim made 47.
For Ireland, Barry McCarthy and Kevin O' Brien took a wicket each.
Sabbir Rahman was the second wicket to fall for Bangladesh after the 2nd wicket stand of 76 between the right-hander and Soumya took Bangladesh to the cusp of victory.
Bangladesh lose their second wicket, with victory in sight. Sabbir was going for everything and pulls another short ball to leg. Unfortunately for the batter, he didn't get fully under it and Dockrell takes the catch on the square leg boundary.
Last bat Sabbir Rahman c Dockrell b McCarthy 35 (34b 3x4 1x6) SR: 102.94
Fall of wicket 171/2 (24.6 ov); Partnership: 76 runs, 11.1 overs, RR: 6.80
The second wicket stand between Soumya Sarkar and Sabbir Rahman steadied ship after Tamim's departure and gradually took Bangladesh closer to their target with sensible batting.
When Bangladesh reached 125/1 in 20 overs, Soumya was batting on 60 from 47 and Sabbir was nine out.  Soumya was fortunate to survive a chance in the 20th over bowled by Peter Chase when he was dropped in the slips.
Bangladesh lost their first wicket after a solid opening stand when Tamim Iqbal was dismissed for 47 with the tourists at 95 for 1 after 13.5 overs.
Tamim falls, and the first wicket goes down for Tigers. A good length ball from Kevin O' Brien and Tamim plays back, gets a thin edge and it goes through to the keeper. Appeal goes up and the umpire takes his time before raising the finger.
Last bat Tamim Iqbal c †NJ O'Brien b KJ O'Brien 47 (54b 6x4 0x6) SR: 87.03
Fall of wicket 95/1 (13.5 ov); Partnership: 95 runs, 13.5 overs, RR: 6.86
Tamim Iqbal and Soumya Sarkar survived some nervy moments early then grew into confidence as they took Bangladesh to 42 for no loss after eight overs.
Tamim was batting on 24 from 35 while Soumya was 13 not out from 13 balls when Bangladesh reached 42 after eight overs. Both of them ensured the bad balls didn't go unpunished while keeping the scoreboard moving with ones and twos.
Earlier, Mustafizur Rahman picked up four wickets while Mashrafe Mortaza and Sunzamul Islam captured two wickets each to help Bangladesh keep Ireland down to 181 in 46.3 overs.
Bangladesh's left-arm pacer took 4-23 in nine overs to peg back Ireland. For the hosts, Ed Joyce was the highest run-getter with 46 from 74 balls.
Mashrafe took the last wicket to fall when Peter Chase was caught behind in the 47th over.
Chase gets an edge to a ball outside off-stump and Mushfiqur Rahim flies to his left and takes an diving catch inches off the ground.
Last bat PKD Chase c †Mushfiqur Rahim b Mashrafe Mortaza 0 (1b 0x4 0x6) SR: 0.00
Fall of wicket 181/10 (46.3 ov); Partnership: 1 runs, 0.1 overs, RR: 6.00
George Dockrell was the ninth wicket to fall for Ireland. He was sent back by Mashrafe after scoring a handy 25 today.
Last bat GH Dockrell c †Mushfiqur Rahim b Mashrafe Mortaza 25 (50b 1x4 0x6) SR: 50.00
Sunzamul Islam gave Bangladesh their eighth wicket when he sent back Barry McCarthy for 12 to leave Ireland struggling at 171 for 8 in 43.2 overs.
Sunzamul gets his second and Ireland are eight down. McCarthy goes down on one knee and looks to sweep the ball, gets hit on the pad and the players appeal in unison. The umpire thinks for a couple of seconds and the finger goes up!
Last bat BJ McCarthy lbw b Sunzamul Islam 12 (23b 1x4 0x6) SR: 52.17
Fall of wicket 171/8 (43.2 ov); Partnership: 35 runs, 10.1 overs, RR: 3.44
Bangladesh were on the driving seat against Ireland after Mustafizur Rahman picked up his fourth wicket to leave the hosts tottering at 136 for 7 in 33.1 overs.
Another one bites the dust, and Fizz gets his fourth. Short ball and Wilson looks to hook, but is given out down the leg-side. Looks like it might have been his hip not the bat.
Last bat GC Wilson c †Mushfiqur Rahim b Mustafizur Rahman 6 (17b 0x4 0x6) SR: 35.29
Fall of wicket 136/7 (33.1 ov); Partnership: 2 runs, 1.3 overs, RR: 1.33
A brilliant catch by Mosaddek Hossain gave Mustafizur Rahman his third wicket to leave Ireland struggling at 134 for 6 in 31.4 overs.
Fizz gets the sixth wicket after a splendid catch by Mosaddek. Mosaddek comes charging off the cover boundary and dives full length to take the catch…simply amazing!
Last bat KJ O'Brien c Mosaddek Hossain b Mustafizur Rahman 10 (11b 1x4 0x6) SR: 90.90
Fall of wicket 134/6 (31.4 ov); Partnership: 8 runs, 2.4 overs, RR: 3.00
Sunzamul Islam got his maiden wicket in ODI cricket when he dismissed Ed Joyce for 46 to leave Ireland at 126 for 5 in 29 overs.
Bangladesh look to be on the ascendancy as Sunzamul gets the fourth wicket to fall during Ireland's innings.  Joyce falls just before his fifty, comes down the pitch, and tries to smash the ball over the long-on boundary. The ball goes high in the air and Tamim Iqbal completes the dismissal easily.
Last bat EC Joyce c Tamim Iqbal b Sunzamul Islam 46 (74b 3x4 0x6) SR: 62.16
Fall of wicket 126/5 (28.6 ov); Partnership: 10 runs, 1.3 overs, RR: 6.66
Mustafizur Rahman came back and gave Bangladesh an important wicket by removing Niall O' Brien for 30 to leave the hosts at 116/4 in 27.3 overs.
Fizz strikes, and this time he stops the partnership that could have done real damage later on. The ball is pitched wide on off, the batter throws the bat the is safely caught by Tamim Iqbal at third man.
Last bat NJ O'Brien c Tamim Iqbal b Mustafizur Rahman 30 (42b 1x4 1x6) SR: 71.42
Fall of wicket 116/4 (27.3 ov); Partnership: 55 runs, 13.1 overs, RR: 4.17
Ed Joyce and Niall O' Brien consolidated after Balbirnie's departure and steadied ship with their 50-run partnership for the fourth wicket. The partnership reached 54 runs in 12.4 overs where Ireland were 115/3 after 27 overs
Bangladesh's ace all-rounder Shakib Al Hasan gave his team the third breakthrough when he sent back Andy Balbirnie for 12 to leave the hosts at 61 for 3 in 14.2 overs.
The arm-ball does the trick, and Shakib strikes! The batsman plays down the wrong line, and the ball disturbs his furniture to the delight of Bangladeshi players, a fantastic start for the Tigers.
Last bat A Balbirnie b Shakib Al Hasan 12 (24b 0x4 1x6) SR: 50.00
Fall of wicket 61/3 (14.2 ov); Partnership: 24 runs, 5.5 overs, RR: 4.1
Mosaddek Hossain made amends for the drop catch earlier when he dismissed William Porterfield for 22 to leave Ireland in a spot of bother at 37 for 2 in 8.3 overs.
Bangladesh get their second wicket, and Porterfield is sent back by the bowler who reprieved him…Mosaddek must be relieved!
The ball is chipped back to Mosaddek who gets down to take an easy catch, a soft dismissal in the end.
Last bat WTS Porterfield c & b Mosaddek Hossain 22 (25b 3x4 1x6) SR: 88.00
Fall of wicket 37/2 (8.3 ov); Partnership: 37 runs, 7.0 overs, RR: 5.28
Bangladesh missed a golden opportunity to pick up their second wicket in the eighth over bowled by Mashrafe Mortaza. The ball popped up to short extra cover from the leading edge and Mosaddek got two hands to it, looked to celebrate too early and couldn't complete the catch.
Fizz gets the breakthrough, just what the doctor ordered…Ireland lose their first wicket. After two in-swingers, Mustafizur angles one across the right-hander from a back of a length. The batsman pokes at the ball and the outside edge is easily taken by Sabbir Rahman at gully.
Last bat PR Stirling c Sabbir Rahman b Mustafizur Rahman 0 (3b 0x4 0x6) SR: 0.00
Fall of wicket 0/1 (1.3 ov); Partnership: 0 runs, 1.3 overs, RR: 0.00
Bangladesh captain Mashrafe Mortaza won the toss and opted to field first. They had some nervy moments in the abandoned first match against Ireland and their batting and bowling failed to shine in the second match against New Zealand. Sunzamul Islam makes his debut today, and he replaces Mehedi Hasan Miraz for this game.
Bangladesh: Tamim Iqbal, Soumya Sarkar, Sabbir Rahman, Mushfiqur Rahim(w), Shakib Al Hasan, Mahmudullah, Mosaddek Hossain Saikat, Sunzamul Islam, Mashrafe Mortaza(c), Rubel Hossain, Mustafizur Rahman
Ireland: William Porterfield(c), Paul Stirling, Ed Joyce, Niall O'Brien(w), Andrew Balbirnie, Kevin O'Brien, Gary Wilson, George Dockrell, Barry McCarthy, Tim Murtagh, Peter Chase