Man with knives held at Ctg demo for cop wife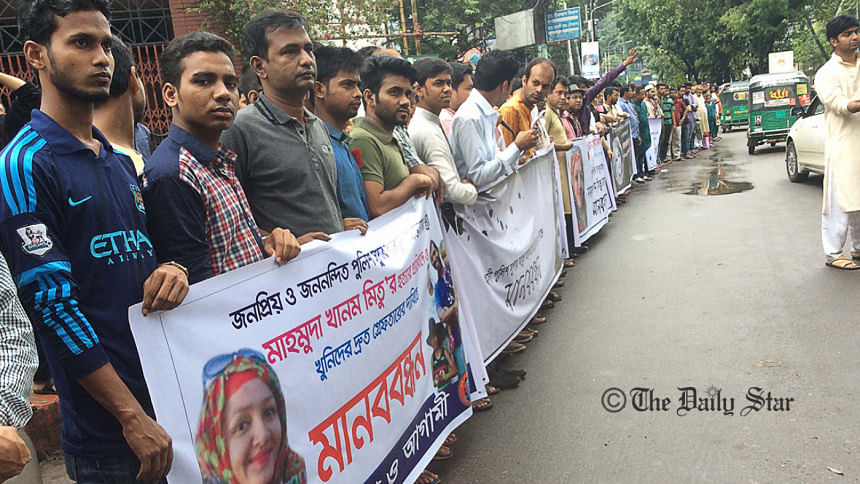 A youth was held with knives from a demonstration in Chittagong arranged for the militancy-fighting slain police official's wife Mahmuda Khanam Mitu.
The organisers caught Md Ibrahim, 20, around 4:00pm for his suspicious movement, our local correspondent reports quoting Nur Ahmed, inspector (investigation) of Kotwali Police Station.
ALSO READ: Militants seem to have settled a score
He was posing around as a rickshaw puller. Two knives were found under the seat of his rickshaw. He was loitering around the human chain programme organised at Chittagong Press Club.
"His link with any militant groups is yet to be affirmed. We will interrogate him in this regard," police official Nur Ahmed said. In addition, a mobile and a pen drive were seized from him.
ALSO READ: Police HQ alerted Babul to possible attack
Mitu, wife of police superintendent Babul Akter, who had a successful run in clamping militancy in Chittagong, was killed under broad daylight. The murder is a suspected revenge job.
Today, a human chain was organised in protest of the killing.
Ismail Azad Shakil, an organiser and president of youth organisation Tarunna Sangha, and former secretary of Chittagong district unit Chhatra Union said people joined in the event voluntarily to condemn the brutal murder.
Rubel Das Prince, Chittagong secretary of Khelaghar, criticised the police for failing to catch the culprits even though a week has passed since the murder.
 "Babul Akter should be posted back in Chittagong and entrusted the authority to investigate the case. We hope if he can investigate the case with his team, the real culprits could be identified and arrested soon", said Rubel.