Jute raises haor farmers' hope in Sunamganj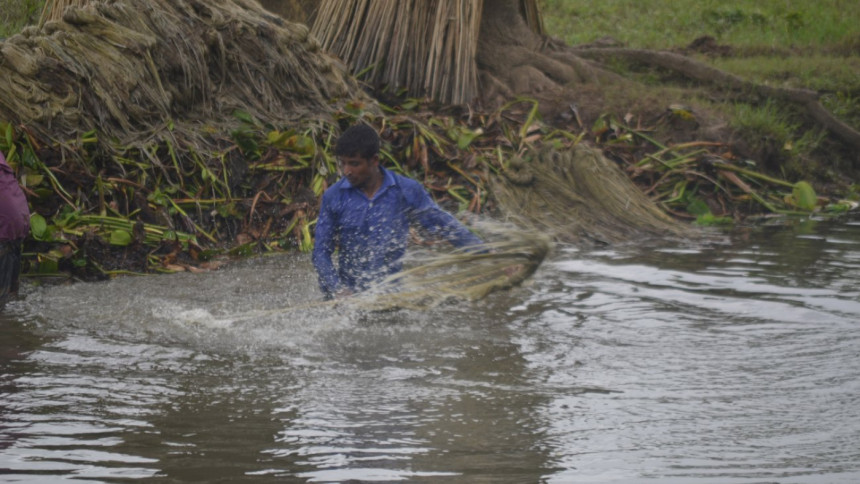 Jute farming provides a livelihood for many haor villagers in different upazilas, especially Dharmapasha and Bishwamvarpur, of the district after losing their Boro crops.
For many years, the marginal land of the haors was largely uncultivated because local farmers were unsure about how to grow different crops there. But nowadays, jute is being grown in those places.
This correspondent found men and women busy washing jute at Polash village in Bishwamvarpur upazila. Many families are engaged in growing jute.
Day labourers earn Tk 150 to Tk 200 per day for removing the fibre from jute plants.
 "I've been farming jute on half a bigha of haor land for the past five years," said Shipon Mia, 44, at Tanguar haor, adding that previously the land was not used for agriculture. "By spending Tk 5,000 per year I earn about Tk 9,000 from jute sales," he added.
"After huge loss of Boro paddy, we cultivated jute this year," says Shyamsundar Das.
Farmer Moin Uddin said he had ten acres of land in the haor area, but the crops were damaged in the early flood, adding that he is maintaining his family by growing jute.
"Farmers of this village have been growing jute for a long time as a means to get extra income, but it has become the main source of income this year due to damage to the Boro crops," Mizan Mia, 60, said.
Abdul Gani, 65, said the price of raw jute in the local markets is Tk 1,600 to Tk 2,100 per maund (40kg). He said demand for jute will go up if the government bans polythene bags.
"Flood victims faced extreme poverty after losing their boro crops, but thanks to bumper production and high demand for jute, they have become solvent," said Bishwamvarpur Upazila Chairman Md Harun-ur-Rashid.
Jute trader Mokhlisur Rahman said they send jute to other districts,including Dhaka.
Sunamganj Department of Agricultural Extension Deputy Director Jahedul Haque said haor people cultivated 1,065 hectares of land in the district this year, which is larger than previous years, he added.