Judges unanimous on sentencing BDR carnage case verdict: AG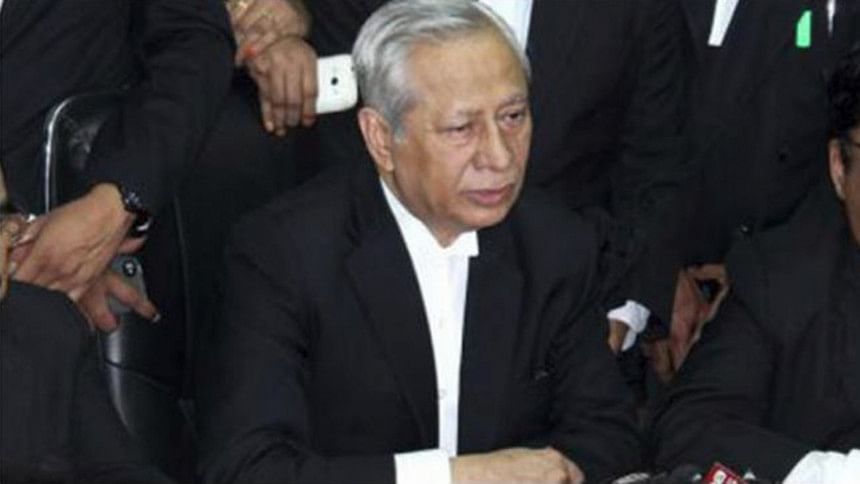 Attorney General Mahbubey Alam today said all the three judges of the special High Court bench, currently pronouncing judgment on death reference and jail appeals in BDR carnage case, are unanimous on sentencing in the verdict.
The chief state counsel said this while talking to reporters during the recess at the Supreme Court.
"It was one of the monstrous crimes in the history. The verdict and the case as well would become an instance," the attorney general said, adding the presiding judge, Justice Md Shawkat Hossain first read out his part of observation, followed by Justice Md Abu Zafor Siddique and after him, Justice Md Nazrul Islam Talukder would read out his part of observation.
About the possibility of completing the pronouncement of the judgment today, Alam said, "Today, perhaps the order portion will be pronounced. But pronouncing the full text will take more time."
The High Court on April 13, kept the judgment on CAV, Curia Advisari Vult (a Latin legal term meaning court awaits verdict), after conclusion of hearing on the matter.
The court also rejected three pleas of the state to increase the terms of sentences of the convicts on that day.
Third additional metropolitan sessions judge's court on November 5, 2013, sentenced 152 persons to death and 160 others to life-term imprisonment as they were proved beyond doubt directly involved in the 2009 BDR carnage that killed a total of 74 people including 57 top and mid ranking army officers.
The trial court had passed the judgment after examining 654 out of 1,354 prosecution witnesses in the biggest criminal case in the history of the country.