IO of SP's wife killing case changed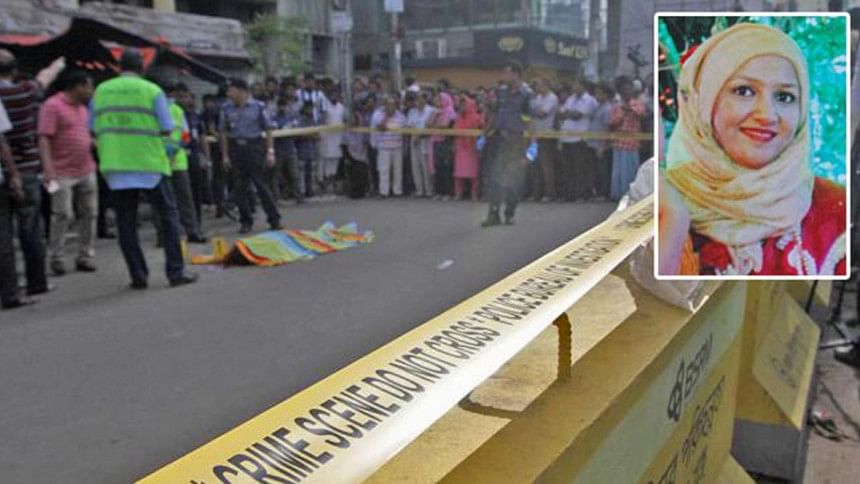 The investigation officer (IO) of police official's wife Mahmuda Khanam Mitu murder case has been changed.
Kamruzzaman, an assistant commissioner of Detective Branch (DB), has been given charge of the case in place of DB Inspector Rakibuddin, said Bangla daily Prothom Alo today.

also READ: Militants seem to have settled a score

To gear up the investigation into the case, the change has been made following an order taken by Chittagong Metropolitan Police Commissioner Iqbal Bahar last night, the daily reports quoting Anwar Hossain, additional deputy commissioner (public relations) of (CMP).  
Assailants stabbed and shot dead Mitu, wife of superintendent of police Babul Akter, near GEC intersection in Chittagong city on June 5.
Babul Akter served as additional deputy commissioner of detective branch of CMP earlier, got promotion as superintendent of police recently and was posted at police headquarters in Dhaka, sources said.
Meanwhile, police yesterday arrested Shazaman Robin, 28, in Bayezid area of the port city in connection with the murder.
In the CCTV footage collected from a roadside camera, a person in a chequered shirt and blue denims with a mobile phone in his hand is seen across the street from where Mitu was murdered.

READ more: Police launch drive against militants
Police suspected Shazaman Robin took part in the killing and later fled the scene with two others on a motorbike.
In a curious development, banned militant outfit Ansar al-Islam or the Bangladesh chapter of al-Qaeda in the Indian Subcontinent (AQIS) reportedly condemned the killing of Mitu.
A microbus driver, who was detained from Sitakunda on Thursday, was released as police did not find any strong evidence of his involvement in the killing, said the CMP commissioner.
Law enforcers seized the vehicle from Bhatiari of Sitakunda upazila on Wednesday and detained Jan-e Alam for interrogation.