Human chains demand withdrawal of cases against Star editor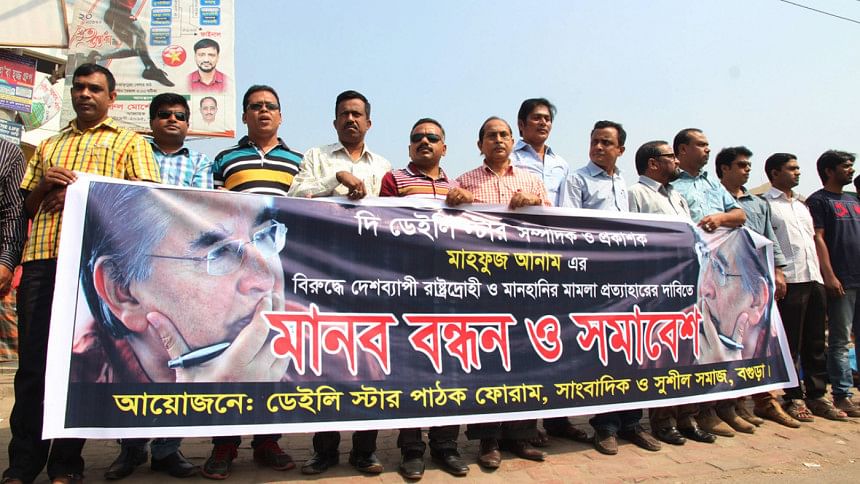 People from different walks of lives in three districts today protested filing of cases against The Daily Star Editor and Publisher Mahfuz Anam on sedition and defamation charges.
ALSO READ: More cases, summons against Mahfuz Anam
At Gono Bishwabidyalay (University) in Savar, some one hundred people including journalists, university officials and students formed a human chain under the banner of Gono Bishwabidyalay Journalists' Association (GBJA) today.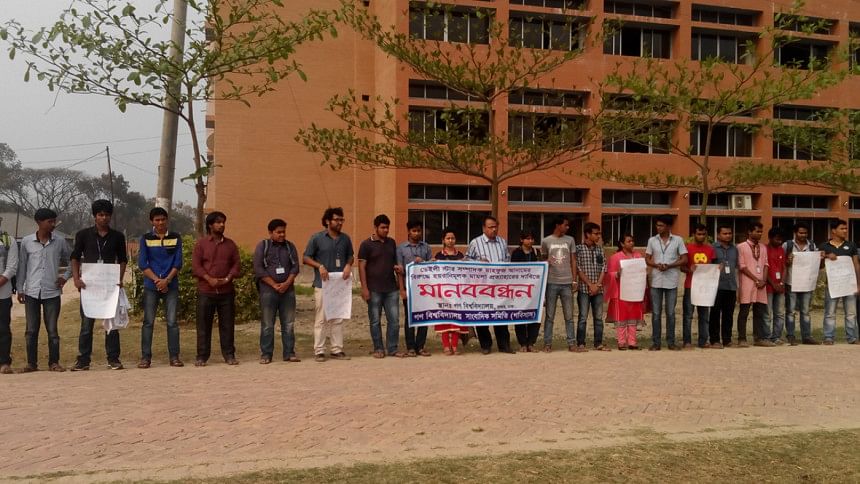 Speakers at the human chain claimed that all the cases filed against Anam are false, baseless and motivated to harass him. They also demanded withdrawal of all cases filed against him across the country.
Among others, Mir Mortuza Ali Babu, chief examination controller of the university, GBJA President Masud Azim, General Secretary Mahadi Tarek, founder president Asif Azad addressed the human chain.
Mir Mortuza said the cases filed against Anam are interference to freedom of the press. "Such cases intend to stop the voice of mass media."
In Bogra, the Daily Star Readers' Forum, journalists and civil society members formed another human chain at the Press Club premises in the town.
The human chain demanded withdrawal of all the cases for the sake of free flow of expression and democracy.
Bogra Press Club's Vice-President Abdur Rahim, former president Rezaul Hasan Ranu, Journalist Union, Bogra (JUB) President Syed Fazle Rabbi Dollar, and Bangla daily the Inquilab Bureau Chief Mohosin Ali Raju, among others, addressed the programme.
In Jhenidah, civil society members and journalists also formed a human chain in front of the Jhenidah Press Club protesting the case spree against Anam.
Jhenidah Press Club General Secretary Mahmud Hasan Tipu, Delwar Kabir of New age, Prothom Alo correspondent Azad Rahman, Manabzamin reporter Aminur Rahman Liton and The Daily Star correspondent Azibor Rahman, among others, participated in the human chain.
Protesters said the intention of pro-Awami League men is to harass The Daily Star editor and undermine its reputation through these cases.
The barrage of cases began days after the Star editor at a talk show on February 3 made an introspective comment about a lapse in his editorial judgement in publishing some reports, based on information given by the Task Force Interrogation (TFI) cell during the 2007-08 caretaker government's tenure, without being able to verify those independently.
During the period, almost all the media outlets, both print and electronic, ran similar stories. 
At the time, this newspaper published 11 such reports – seven on alleged corruption of Khaleda Zia, her two sons – Tarique Rahman and Arafat Rahman Koko – and other BNP leaders. Three reports involved alleged graft of Sheikh Hasina and one involving the then chief conservator of forests, Osman Gani.