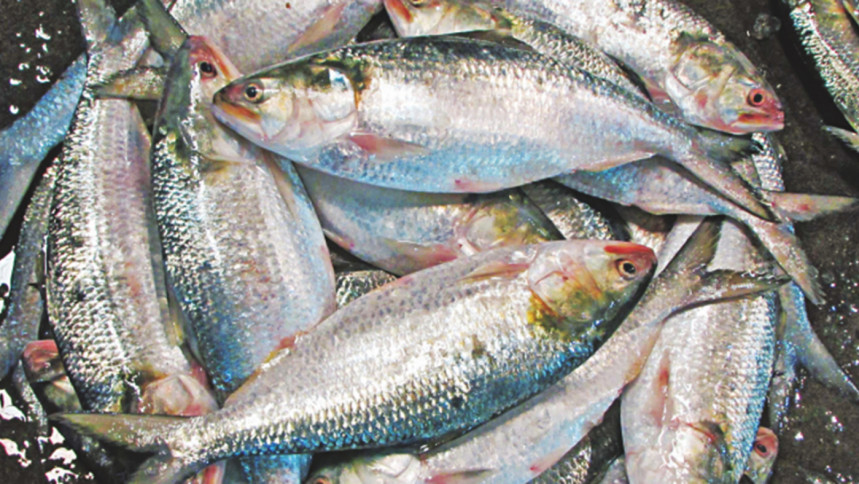 A lot have been said about whether to eat Hilsa fish during this Pahela Baishakh. But how much do we know about this interesting, often enigmatic fish Bangalis are so proud of?
Bangladesh has three kinds of Hilsa. The most famous species which we call Padma Ilish is called Tenualosa Ilisha.
This Hilsa is widely found in Bangladesh from the Bay of Bengal to our rivers. They are the tastiest of all hilsas – rich in fat and flavour.
READ MORE: To eat or not to eat Hilsa this Pahela Baishakh
The second kind is known as Chandana Ilish. In scientific terms it is called Nenuacosa Toli. Chandana Ilish was once widely available in the Meghna estuary and the Bay, but its number has decreased over time due to over-catching and netting of fries or Jatka.
The third kind is known as Gurta Ilish or Hilsha Kelle in scientific terms. This species does not travel to the rivers and are found only in the sea.
Hilsha was known in English as Indian Shad as it falls under the family Calpidae Shad. But now it is referred to as Hilsa.
ALSO READ: Hilsa spawning less and less
The fish has a wide geographical distribution. But about 60 percent of the fish is caught in Bangladesh amounting to 3.87 lakh metric tons last year.
About 20 percent of the population is caught in Myanmar and 15 percent in India. The rest are found in Oman, Pakistan and Bahrain.
"We are trying to patent Hilsa of the Padma as our own distinct fish," said Hilsha researcher Dr Md Anisur Rahman, principal scientific officer of Bangladesh Fisheries Research Institute. "We are proud of this fantastic fish. It is our own wealth."
Hilsa had faced some challenges in Bangladesh like drying up of the Padma and killing of Jatka.
"But we have successfully implemented hilsha sanctuaries and stopped killing of Jatka. As a result hilsa population is increasing," Dr Anis said.
Hilsa has some unique features often seen as mysterious. We all know that they die as soon as they are taken out of water.  This happens due to two reasons. First they are highly sensitive to light and temperature and so when they are pulled out of water they immediately die. The second reason could be that unlike most fishes they do not have air sacks or Patka as we call them. Air sacks help fish float and also to retain oxygen. Since Hilshas do not have them, they easily get starved of oxygen.
Hilsa feeds on planktons and so unlike other fish they have to be constantly on the move. Even when other fishes sleep at night or rest, Hilsas have to swim.
The other mystery is why we never find any Hilsha without eggs. If we find so many Hilsas with eggs, then we must see a lot of them which have laid eggs. Once they lay eggs Hilsas must migrate back to the sea and then a lot of them should have been netted by the fishermen?  And where do the male Hilshas go? Do they die as soon as they lay eggs?
Dr Anis however claims Hilsas which have laid eggs are also caught by fishermen but they do not bring them to the market because these fish become very thin and would not fetch any good price. So, they either eat them or cut them up into pieces and apply salt to make salted Hilsha or Nona Ilish.
Many of these answers will however be clear soon as World Fish, a research organisation, has launched a project called Eco Fish Bd to study the migration and breeding behavior of Hilsas.