'Drug peddler, JMB man' die in 'gunfights'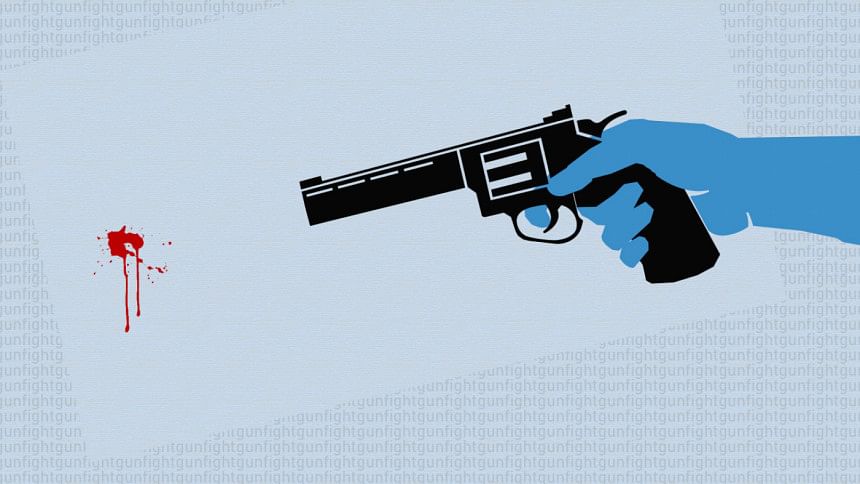 A suspected member of banned militant outfit Jama'atul Mujahideen Bangladesh (JMB) and an alleged drug peddler were killed in two separate "gunfights" with Detective Branch of police in Mymensingh early yesterday.
The dead are identified as Abdullahel Kafi, 31, of Phulbaria area, and Alamgir Hossain Gudu, 25, of Mymensingh city's Kalibari Puraton Godara Ghat area.
Kafi, a listed JMB member in Mymensingh, was killed when a gang of robbers were planning a robbery, in which Kafi was allegedly involved, in Jhaloi Bridge area on Rasulpur-Kathalia road in Muktagacha, police said.
"After a tip-off, a DB team raided the area around 12:30am. The robbers fired at the police officials, forcing them to retaliate. Kafi sustained bullet wounds during the gunfight," OC Akanda said.
Kafi was taken to MMCH where he was declared dead.
Police claimed to have recovered a gun and two used bullets from the spot.
The OC further said sub-inspector Nazim Uddin, assistant sub-inspector Mohammad Mazid, and constable Ibrahim were injured in the incident, adding that they were being treated at Mymensingh Police Lines Hospital.
He also said Kafi was accused in three cases filed under the Anti-Terrorism Act with Kadamtoli Police Station in Dhaka in 2013, and was arrested once around two years ago in Dhaka for his involvement in anti-government activities.
Speaking to The Daily Star, Kafi's older brother Abdul Alim said they were hardly in touch with Kafi since he left for Dhaka about seven years ago.
"Earlier, he used to contact with us over mobile phone and also told us that he used to run makeshift fruit shops at Tongi and Narayanganj. But he cut-off all connections with us around three years ago," said Alim, a local bakery employee.
He added that their family knew nothing about Kafi's involvement with JMB.
Meanwhile, Alamgir, an electrician and suspected drug peddler, was killed in an alleged gunfight with police in Shaheed Kachari Bazar area beside the Myemnsingh-Kishoreganj highway.
Shah Kamal Akanda, officer-in-charge (OC) of DB police in Mymensingh, said a team of detectives raided the area around 1:30am upon receiving information that a gang of drug peddlers had gone there.
"When police reached the spot, the drug peddlers fired at the law enforcers, forcing them to retaliate, leading to the gunfight. Alamgir sustained bullet wounds during the incident," he said.
Alamgir was taken to Mymensingh Medical College Hospital (MMCH) where he was declared dead.
Police claimed to have recovered two kgs of marijuana and two used bullets from the spot. 
They also said Alamgir was accused in three cases related to narcotics filed with Kotwali Police Station.
However, his family members alleged that he was killed three days after he had been picked up by plainclothes men. Police, however, denied the allegation.
Meanwhile Alamgir's father Mohammad Ibrahim, a local fish trader, said his son was addicted to drugs once but was never involved in drug peddling, adding that Alamgir had been living at his sister's house in Purbadhala in Netrakona for the past three months.
"Alamgir came home on Tuesday evening. Around 10:00pm, plainclothes men picked him up from our home," he said, adding that they searched for Alamgir at Kotwali Police Station and the DB office several times and asked about his whereabouts but police denied picking him up.
His family demanded an investigation into the incident.
With this, at least 252 suspected drug dealers and peddlers have been killed since the nationwide anti-narcotics drive began on May 4. Most of them were killed in so-called shootouts involving police and Rab.