Teknaf 'drug dealer' killed in 'gunfight'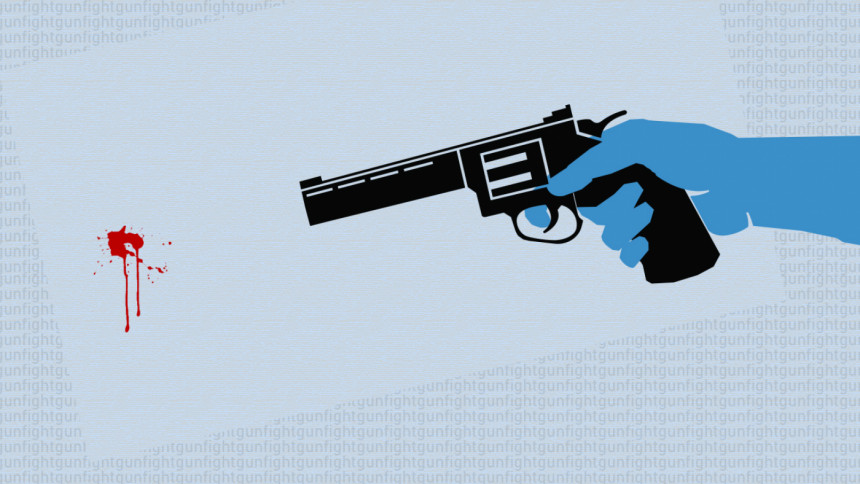 A suspected drug peddler was killed in a "gunfight" in Teknaf yesterday.
The deceased was identified as Ziaul Bashir Shaheen, 32, resident of Pashchim Sikder para of the district.
According to the family members, Shaheen was picked up in a microbus by a group of people, who claimed to be law enforcers, from a local mosque where he went to say his Jum'a prayers.
Some locals said they saw Shaheen being picked up by plainclothes men. He had been missing since then.
However, Pradip Kumar Das, officer-in-charge (OC) of Teknaf police, said, "Shaheen was killed in a tripartite gun battle in Dorgapara area."
Shaheen's name was seen in the list of drug traders and patrons prepared by the home ministry, the OC added.
According to the OC, a police team rushed to the spot following a tip-off that said two groups of drug peddlers had been locked in a gunfight in Dorgapara area. Sensing police presence, the drug traders opened fire at the law enforcers.
Shaheen died on the spot during the "gunfight", the OC said. Three policemen were also injured, he added.
Other drug traders fled the scene, he claimed, adding police recovered three firearms, 18 bullets and 15000 pieces of yaba pills from the spot.
The death of Shaheen in so-called shootout surprised his family members and locals, raising question on how a detained man got killed in gunfight.
Since OC Pradip joined the Teknaf police on October 20, at least eight alleged drug traders, including Shaheen, were killed in similar incidents of gunfight in the area.