Vested quarter active ahead of polls to grab power: PM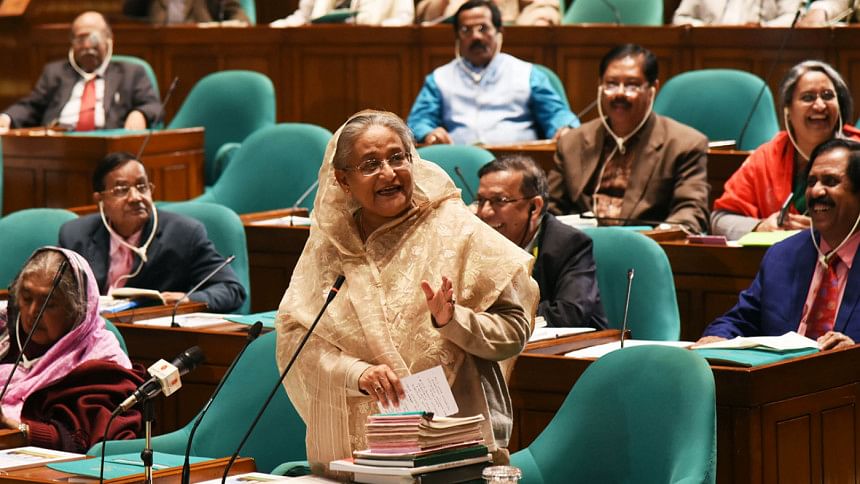 Prime Minister Sheikh Hasina today told parliament a section of vested quarter once again has become active ahead of the next elections to go to power through an unconstitutional way.
"There is a section of people who are the real problem for the country and its people. This class is painful and harmful for the nation as they remain busy for doing unwell of the people," Hasina told parliament while responding to a supplementary question opposition lawmaker Fakhrul Imam.
"They don't even watch any kind of development work. They are blind and deaf despite having eyes and ears.  It's because they only think of assuming office in an unconstitutional way," she said.
Without mentioning the name of Centre for Policy Dialogue, the premier said "Even if you run huge development activities, they don't see this. Their research never finds Bangladesh's development," she said raising a question of the source of money for their research activities.
The CPD on Saturday termed the year 2017 as the year of banking scam saying that a series of scams took place in the country in 2017.
The think tank believes the scams have a very negative impact on the overall economy and apprehend the banking sector will not be relived from such crisis soon because of the government's inaction.
"Whenever any unconstitutional, abnormal or martial law government assumed office, they think that their importance have been increased. It's because they have a desire to go to power. Their desire isn't fulfilled as they don't have the capacity to contest and win the polls," she said.
"As they don't have the ability to come in power through elections, they always look for unconstitutional ways. By looking for the unconstitutional ways, they cannot see any development work of the government," she said.
Referring to the last army-backed caretaker government, the premier said those section of people were in cheerful mind when the army-backed government assumed office in 2007.
"They had a desire to form a political party to go to power," she said.
Recalling the January 5, 2014 polls, the premier said that quarter also tried to foil the last parliamentary polls and to go to power through an unconstitutional way.
"As their plan to go to power was foiled with the resistance of the people, many of them were deeply frustrated and took to bed. This quarter become active again as the parliamentary polls is nearer," she said.
Decision on MPO in next budget
Responding to another supplementary question on the inclusion of educational institutions under the monthly payment order (MPO), the premier said the government would take a decision in this regard in the next budget.
"We have been nationalising the educational institutions based on a guideline. We must consider the issue in the next budget," she said.