PM orders MPO process, teachers end hunger strike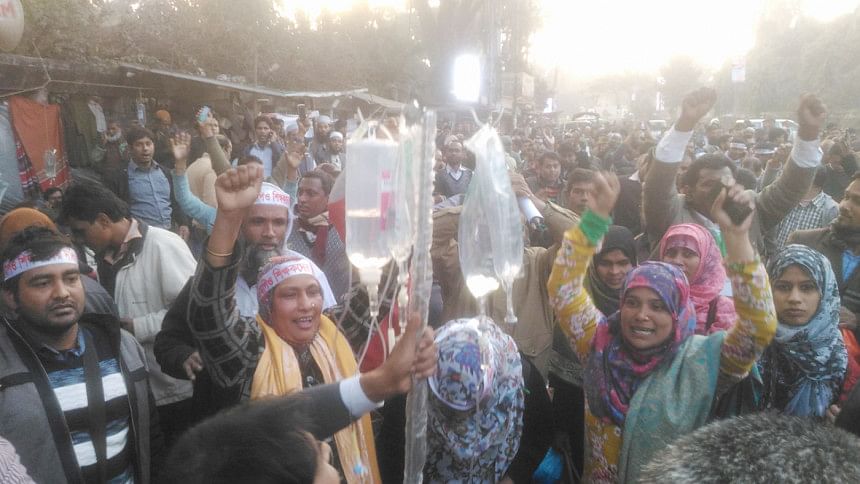 Teachers called off their hunger strike today after Prime Minister Sheikh Hasina ordered to initiate the process of enlistment into the Monthly Payment Order (MPO) system.
Six days into the hunger strike for MPO enlistment, prime minister's Personal Secretary Sazzadul Hassan went up to the demonstrating teachers at Jatiya Press Club and conveyed the message.
"We are satisfied with it," Binoy Bhusan Roy, general secretary of demonstrating banner Non-MPO Educational Institution Teacher-Staff Federation, told The Daily Star this afternoon.
The premier's personal secretary was accompanied by Education Secretary Sohrab Hossain when the duo approached the demonstrating teachers around 4:30pm.
Read More: Where is the MPO protest going?
This was a big achievement for the nearly 80,000 teachers who are bearing the burden of work without pay under the 5,242 government-recognised institutions, some for well over a decade.
Over a hundred teachers began their demonstration since December 26, starting out with a sit-in, which later grew out to be a hunger strike until death from December 31.
So far, a total of 125 teachers have fallen sick during the hunger strike.
In the middle, Education Minister Nurul Islam Nahid tried to console them with assurance and send them home. But, the teachers rejected his words and stayed adamant demanding word of the premier.
Golam Mahmudunnabi, president of the demonstrating platform, has told The Daily Star that the teachers will now return to their homes and start taking classes at schools again.
The teachers were in such state because the schools do not have the ability to pay the teachers, while the government stopped enlisting the institutions for MPO due to "fund crisis".
Under the MPO scheme, the government gives 100 percent basic to the teachers of non-government schools. The teachers also get a lump sum amount as other allowances from the MPO.