8 held over Bhola, N'ganj gang-rape incidents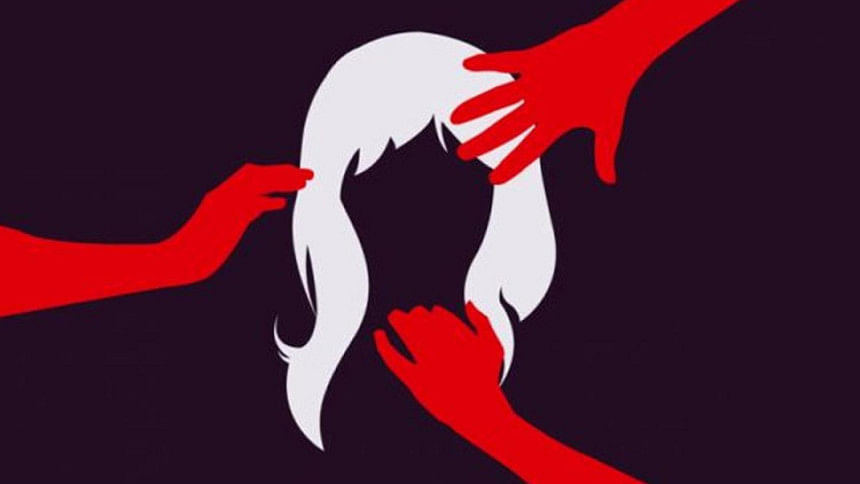 Eight people were arrested in connection with two separate gangrape incidents in Bhola and Narayanganj.
In Bhola, coast guard members today arrested five people on charge of gang-raping a girl at char Fasson upazila, reports our Jhalakathi correspondent.
The arrestees, Yusuf Hasan Sardar (21), Sohel Rana Didar (20), Wasel Ahmed Sikder (22), Morshed Hang (35) and Rupom Fakir (20) were held from a trawler on a river near char Kukri-Mukri.
A coast guard team patrolling the river area conducted a raid in the early hours and not only arrested the five men, but also rescued the victim from the trawler, Alamgir Hossain, char Fasson contingent commander of Coast Guard's South Zone was quoted as saying by our correspondent.
The girl also said the five men gangraped her twice.
A case was filed with Dakshin Aicha Police Station in this regard, said Milon Kumar Ghosh, officer-in-charge (investigation) of the station. Earlier, coast guard members handed over the men to local police.
The girl, who is a readymade garments worker in Dhaka, had returned to her home in the upazila due to her mother's illness, the OC said quoting the case statement.
She had asked Sohel, one of the accused, for help regarding her mother's treatment. He agreed and asked her to meet him at Dhakkin Aicha area. When she went there, Sohel and his friends took her on a trawler and raped her.
The five were produced before a court this evening, while the girl was sent for a medical test, the OC said.
In Narayanganj, police arrested three people in a case filed over a gangrape incident at Rupganj upazila.
The arrestees are Sahar Ali (30), Rakib alias Rocky (35), and Rakib's wife Farzana Begum (25), reports our Narayanganj correspondent.
The victim and Farzana were friends, according to police. Last Wednesday, Farzana invited the victim to visit one of their relatives' house. When she agreed, Farzana took her to a house in Masumabad area where Farzana's husband Rakib, Sahar Ali and another man were present.
At one stage, Farzana left the scene. The trio then took turns to rape the girl, said Azhar Ali, inspector of Bhulta Police Outpost under Rupganj Police Station.
The girl later filed a complaint against the four people, following which three of the accused were arrested, while one is on the run.