Rangamati in food, fuel crisis
6 more bodies found
Power restored in evening

Food, fuel crisis

6 bodies found, search goes on

It's pouring, more rain likely

Situation might worsen

District admin holds meeting with stakeholders 
Disaster-hit Rangamati, that saw a devastating series of landslides in a decade which claimed 108 lives there, has been lurched into uncertainty with crisis of food and fuel.
With the existing problems of livelihood for the living, six more bodies were found – including that of the missing army man – as search resumed amid warning of further rain.
READ MORE: Disaster was written on the wall
Chittagong divisional Fire Service and Civil Defence's Deputy Assistant Director Md Jashimuddin confirmed The Daily Star of the find. However, it was still unclear if it would add to the toll.
Three of the fresh bodies among six were of Bangladesh Army Sainik Md Azizur Rahman, and commoners Rupom Dutta and Sultana, 55. Five fire-fighting teams were still continuing rescue operation.
Meanwhile, power was restored in Rangamati around 10:08pm. Grid lines along Satchhari, Kalabagan, Manikchhari and Bedpachuri areas were destroyed in the overnight landslides on Wednesday.
READ MORE: Hills howl in grief, pain
Road communication is still cut off with piles of landmass and debris. Local roads and highways division's Sub-Assistant Engineer Md Abu Musa said "it would take time to make things normal".
Fuel shortage was running high in the district. In Sadar, two major refueling stations – in Banarupa and Rajbari – were found closed. Only an overcrowded pump was found open.
"Fuel price is sky high. Petrol is selling for Tk 140-150 a litre," said Md Alam, who runs an oil-driven auto-rickshaw. He says he had to wait for hours in queue to get fuel.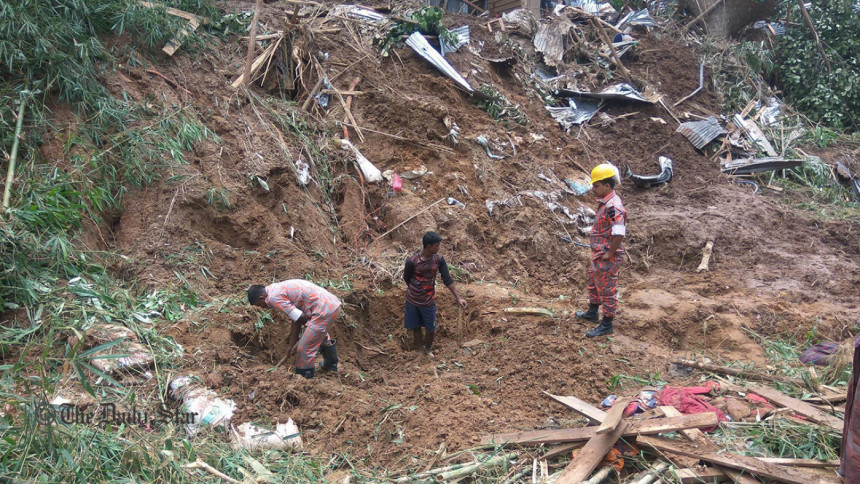 Food supplies were also getting scarce and the top eateries in town have limited their menu for the crisis. Staffs of two such restaurants – Kutumbari and Daruchini – told The Daily Star on condition of anonymity that there were not many supplies in the market.
Meanwhile, Rangamati district administration held a meeting with local businessmen, traders, councillors and different quarters of people to tackle the ongoing crisis.
The meeting, convened by Deputy Commissioner Manzarul Mannan, began this evening at DC conference room.
Councillors were asked to prepare a list of the landslide victims while the traders were asked to play role to mitigate shortage of daily necessaries in the disaster-hit areas, meeting sources said.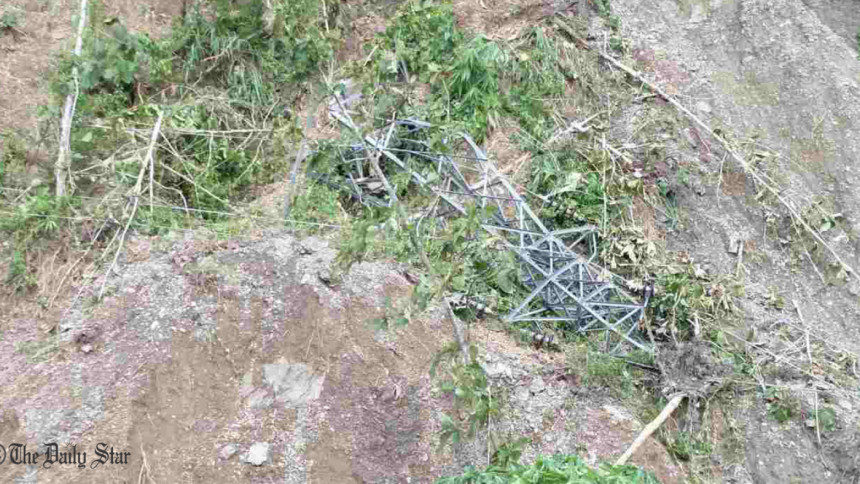 Belayet Hossain Mia Belal, president of district chamber of commerce and industry, said if food supplies are not resumed in the next two to three days, "the situation will become dire".
"Now people can get essentials in high price. But within two to four days, people won't get any food even in high prices," he told The Daily Star while explaining the situation.
Last midnight, the district authorities warned in loudspeakers of further rain and requested those living at the base of hills to evacuate immediately.
To make things worse, a mild drizzle had started when this report was last filed. Weather bulletin said the deep in Bay had reduced, but there will be rains in the Chittagong division.