Building Collapse: 4 Bangladeshis killed in Bahrain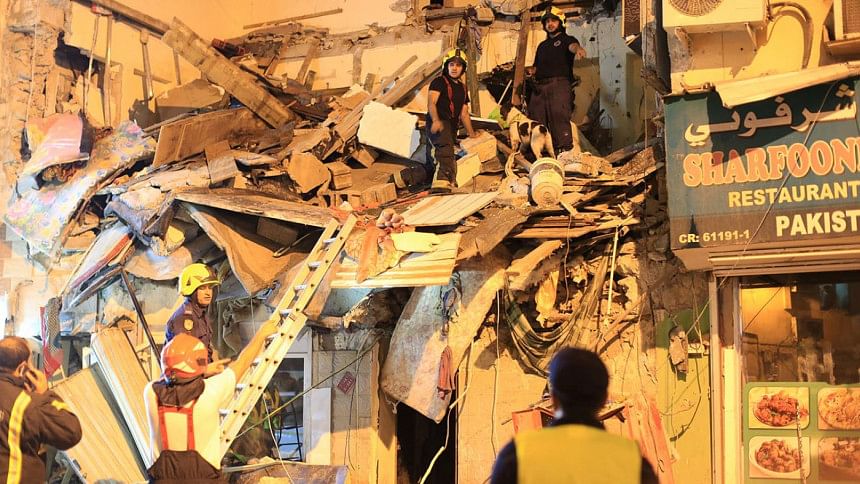 Four Bangladeshi migrants were killed and 30 others injured in a building collapse after a gas cylinder exploded in Bahrain on Tuesday night.
Three of the deceased were identified as Joynal Ismail, son of Ismail of Brammanpara in Cumilla; Abdul Hannan, son of Fazlul Haque of Kachua in Chandpur; and Zakir Bakul, son of Abdur Rashid Bakul of Haziganj in Chandpur, said Sheikh Mohammed Tauhidul Islam, labour counsellor at Bangladesh embassy in Bahrain.
"Some 30 Bangladeshis were injured. They were rushed to nearby hospitals. Most of them are now out of danger. Condition of two is critical," he told The Daily Star by phone last night.
He said there were some 150 migrant workers, mostly Bangladeshis, in the three-storey building at Salmaniya in Bahrain's capital Manama.
After the day's work, they were either cooking or resting. Blast of a gas cylinder caused partial collapse of the building, Tauhidul said.
The rescue teams immediately rushed to the spot and pulled out those trapped inside the building. Three died on the spot and the other after hospitalisation, he quoted the hospital officials as saying.
"From the embassy, we also visited the spot. The Bahrain government is trying to arrange a shelter for the migrants," the official said.
He added that Bangladesh embassy is arranging temporary shelter and food for the affected Bangladeshis.