Major rivers continue to rise, more areas inundated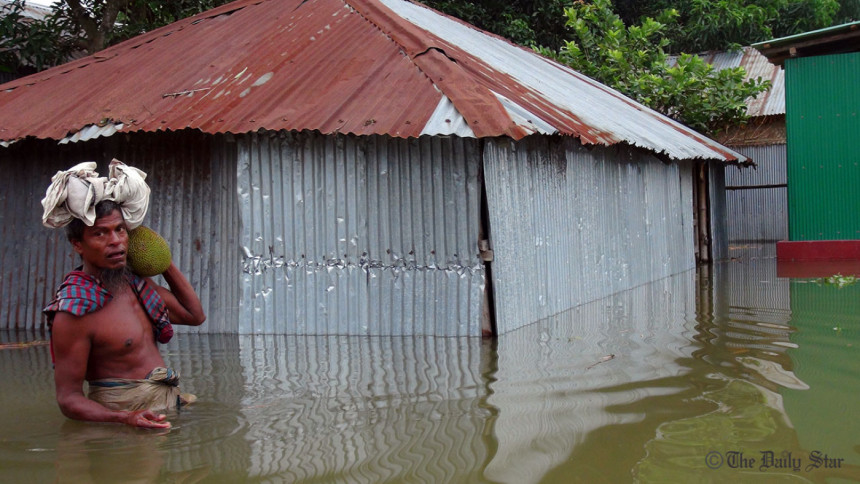 Overall flood situation in the country deteriorated further today as water levels at all major rivers marked rise inundating more fresh areas, marooning thousands of people and disrupting road communications in different areas.
Water levels at 79 river stations monitored by Flood Forecasting and Warning Centre (FFWC) have marked rise while 11 stations recorded fall today.
Among the 93 monitored stations, water levels at 23 river stations are flowing above danger level while water levels at two river stations have been registered steady, said a bulletin issued by the FFWC. The major rivers in Chattogram, Sylhet and Rangpur divisions may rise rapidly.
"Water levels in all the four basins are rising but of them rivers in Meghna and Brahmaputra basins particularly in the Teesta sub-basin are swelling in a faster pace," a FFWC spokesperson told BSS at around midday today.
Netrokona, Sunamganj, Sylhet, Chattogram, Cox's Bazar, Bandarban, Lalmonirhat, Kurigram, Jamalpur, Gaibandha and Bogura were among the worst affected areas where the flood situation may deteriorate further due to rainfall in north, north-east and hill regions, said FFWC.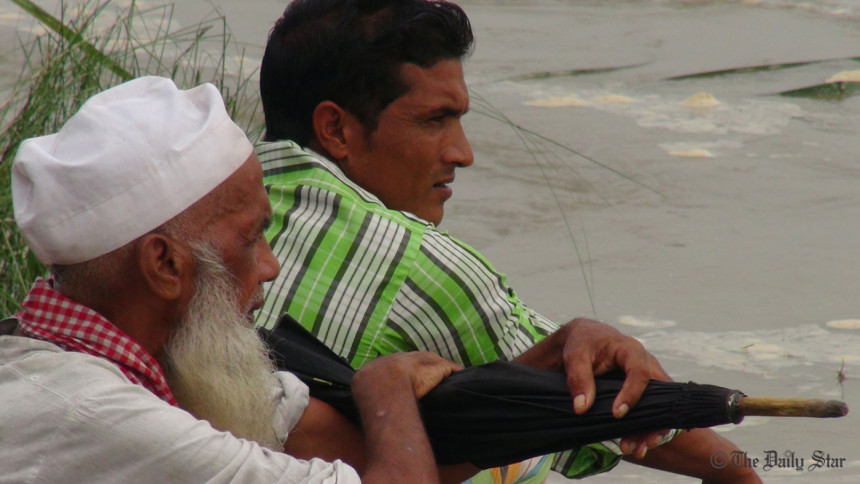 The government has already started relief operations in the affected areas and opened control rooms to monitor the flood situation. Medical teams led by civil surgeons are working in the affected areas
Chattogram
Patenga Met office recorded 122.4 mm of rainfall during the last 24 hours ending 3 pm today, causing serious disruptions to civic life, port and businesses activities in the city.
City's all rivers, canals and drains were full to the brim of floodwater caused by the torrential rainfall coupled with full tide water.
Low-lying areas including Chawkbazar, Bakalia, Sholakbahar, Agrabad, Halisahar, Muradpur, Bohaddarhat, Kapasgola, Parbartak Intersection, KB Aman Ali Road, DC Road, Chandgaon, Sholashahar Gate No. 2, East Nasirabad and Dewanbazar areas were inundated in nearly knee-to-waist-deep water.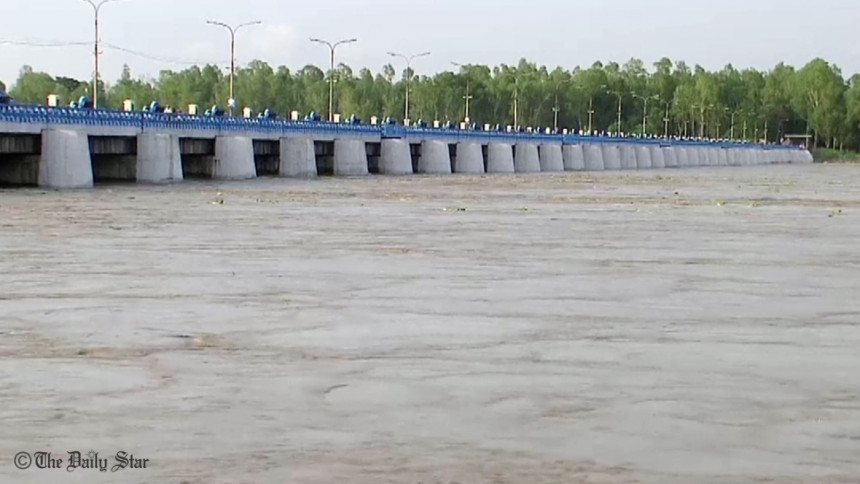 Chattogram District Administration evacuated around 800 families from risky hill slopes in the city fearing landslide and sent them to eight shelter centres, said Delwar Hossain, Additional Deputy Commissioner (Revenue).
Shah Amanat International Airport sources said a few flights could not land in the airport while some others were delayed to fly because of heavy downpours. Chattogram Civil Surgeon Office formed 284 medical teams and a control room for monitoring emergency situation in flood affected areas.
Nilphamari
Flood situation has worsened further as water level of the river Teesta at the Nilphamari point is flowing by 50 cm above its danger mark.
Onrush of water from upstream region and heavy rainfall triggered floods in 15 char areas under Nilphamari district leaving over 20,000 families marooned.
Low-lying areas in the district were flooded as water levels in the major rivers rose sharply, said Md Abdullah Al Mamun, executive engineer of Water Development Board of Nilphamari.
Cox's Bazar
Incessant rainfall and onrush of water from upstream flooded Chokoria and Pekuya upazila of the district leaving over one lakh people marooned.
Cox's Bazar district witnessed incessant rainfall in the past seven days and the Matamuhuri river is flowing above its danger mark due to onrush of water from hilly areas, said an official of upazila Water Development Board.
Chairman of Suragpur-Manikpur union Azimul Haque told BSS that roads, houses, schools and other infrastructures went under floodwater creating immense suffering for the people.
Chokoria Upazila Nirbahi Officer (UNO) Nuruddin Muhammad Shibli Noman said local administration is distributing dry food among the flood-hit people. A total of 30 tonnes of rice were disbursed in the flood affected areas.
Bandarban
Overall flood situation in hill district deteriorated due to heavy rain and onrush water from upstream.
Sangu River at Bandarban and Dohazari points has crossed danger level, according to the Flood Forecasting warning Center (FFWC).
Road communications of hill district Bandarban with other parts of the country remained suspended as Chittagong-Bandarban road at Keranihat area is under water for five days.
About 20,000 people of low-lying areas of the district remained struck by flood water. More than 2500 families have taken shelter in 131 shelter centers.
District administration is distributing 'khichuri', meat and drinking water two times a day among the affected people. Dry foods are being distributed in other shelter centers.
Sherpur
Monsoon flood triggered by heavy rainfall and onrush of hilly water inundated 40 villages under Jhinaigati upazila in Sherpur district leaving 5,000 families marooned.
Officials and representatives of local government bodies told BSS that several hundreds of houses, roads and other infrastructures have been completely or partially damaged alongside standing crops of vast tract of lands, which went under water.
Flood situation in Sherpur district may deteriorate further, if monsoon rains are likely to prolong, the Met Office sources said.
Rangpur
About 40,000 families have been affected in seven northern districts where flood situation further deteriorated today despite onrushing water from the upstream receded at Teesta Barrage Project (TBP) point.
Officials of Water Development Board (WDB) said the major rivers of Rangpur, Nilphamari, Lalmonirhat, Kurigram, Gaibandha, Bogura and Sirajganj were flowing above their danger marks (DM) at eight points in the basin at 3 pm today.
Teesta crossed its DM for the first time in recent times at Kawnia point where the river was flowing 12 cm above its danger level at 3 pm, Superintending Engineer (SE) of WDB for Rangpur Circle-1 Md. Harun Ar Rashid said.
The Teesta was flowing 50cm above the DM at Dalia at 12 last night while at 37cm above at 3 pm today, Executive Engineer of the WDB's TBP Division Rabiul Islam told BSS.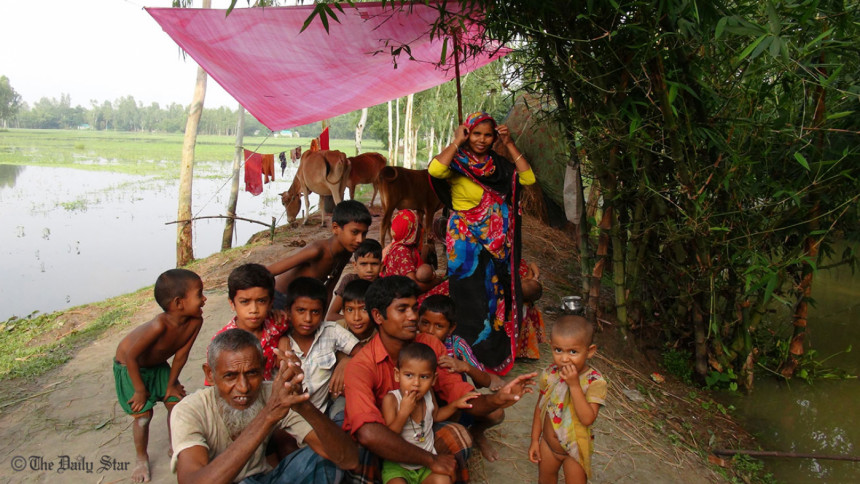 The Dharla was flowing 57 cm above the DM at Kurigram, Brahmaputra by 12 cm at Noonkhawa, 45 cm at Chilmari and by 42 cm above the DM at Fulchhari and Ghaghot by 16 cm at Gaibandha points at 3 pm today, he said.
WDB officials said the Jamuna was flowing 37 cm above the DM at Bahadurabad while 3 cm below the DM at Sariakandi, 24 cm below the DM at Kazipur and 48 cm below the DM at Sirajganj point.
However, there is a possibility of improvement of flood situation in the side of Teesta in Lalmonirhat, Nilphamari and some areas of Rangpur and Gaibandha districts due to sharp fall of onrushing water.
The government has launched relief operation as the current spate of deluge exposed thousands of people to sufferings following inundation of vast low-lying areas in the upper Brahmaputra basin.
Gaibandha
Water level of the Brahmaputra, one of the mighty rivers in the country, crossed its danger mark today morning inundating the river basin areas including char ones.
The water levels in the Brahmaputra rose by 46 cm.
With the rise of water level in the Brahmaputra river, the river basin areas of Sundarganj, Sadar, Fulchhari and Saghata upazila had been inundated and the standing crops particularly jute and summer vegetables went under flood water.
Apart from this, flowing rise of water level in the river, the erosion took serious turn at many places along the western sides of the river including Horipur, Kapasia and Kamarjani of the district creating immense sufferings and much anxiety to the erosion victims and also making the river bank people threatened.
The district and the upazila administrations had got ready with relief materials and manpower to address the flood situation in the district efficiently.
They were also monitoring the situation closely and briefing the higher authority concerned about the latest situation and its doings side by side with opening a control room at the DC office to help inform the people about floods, the DC added.