VAT protest: Dhaka comes to a standstill (video)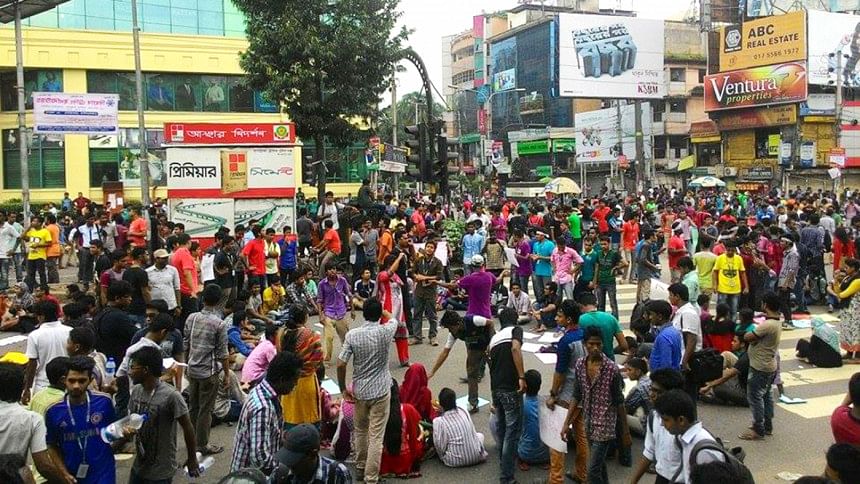 - EWU assures of no tuition fee hike
- Blockades in Dhanmondi, Mirpur road, Bashundhara
- Dhaka-Aricha highway blocked
- Chase and counter chase in Uttara
- Protests in Sylhet, Chittagong, Rajshahi
#NoVatOnEducation "My father is in the public service. Only I know how difficult it is for him to pay my registration and tuition fees"Opinion from a student of #DIU. More updates to follow.Video: Kazi Tahsin Agaz Apurbo

Posted by The Star Weekend on Sunday, September 13, 2015
Students pursued mass protests in Dhaka and other parts of the country and put road blockades along key points in the capital, severely disrupting traffic in strike against 7.5 percent VAT on private university tuition fees.
#NoVatOnEducation Students of #EWU are protesting against imposing VAT on private education. Updating LIVE from... http://t.co/TukoORPxKE

— The Star (@TheStarWeekend) September 13, 2015
12:50pm: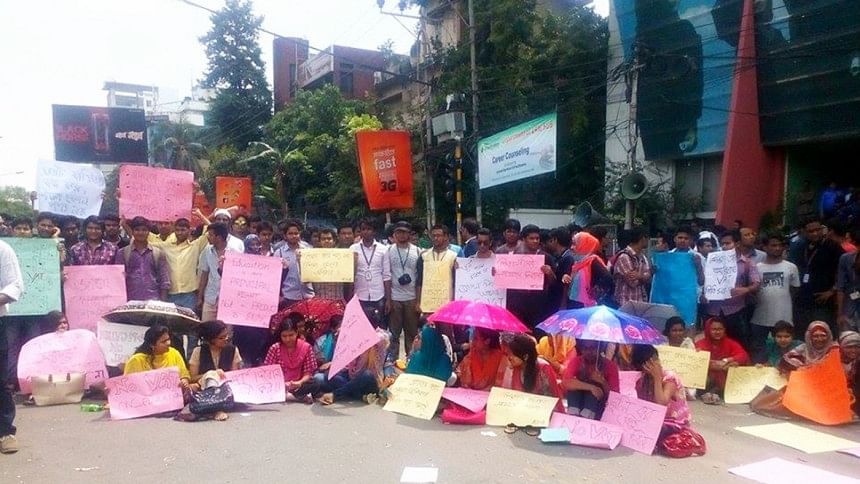 Stamford University students took to a road in Dhanmondi 27 near Asad gate intersection, Elfin Rony, one of the protesters, told The Daily Star.
#NoVatOnEducation "My father is in the public service. Only I know how difficult it is for him to pay my... http://t.co/pbieZlE3z9

— The Star (@TheStarWeekend) September 13, 2015
12:30pm:
Over a thousand students of Dhaka International University and World University blockaded Panthapath intersection disrupting vehicular movement with Russell Square.
ALSO READ: Demo hits education
East West students kicked off today's strike with a sit-in demonstration in Rampura around 10:00am. Around a hundred students abandoned classes and joined in the demonstration.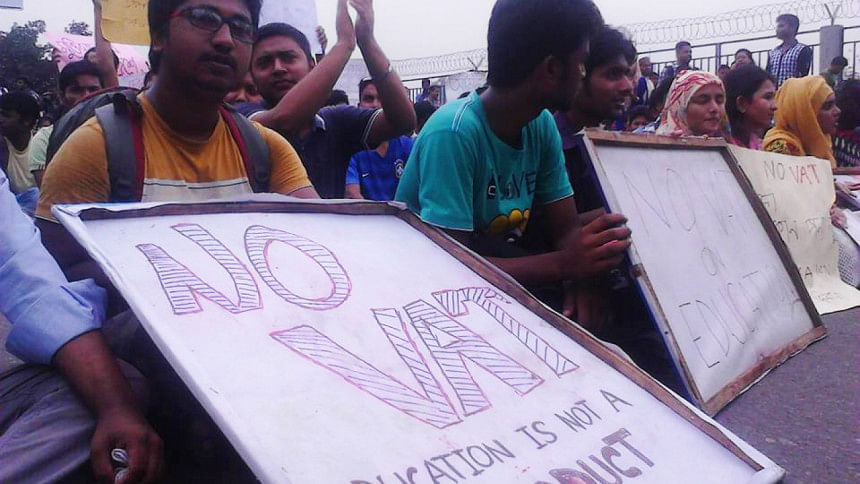 Later, students from other universities in Uttara, Bashundhara, Gulshan, Dhanmondi, Panthapath and other areas occupied the streets and brought traffic to a standstill in those areas.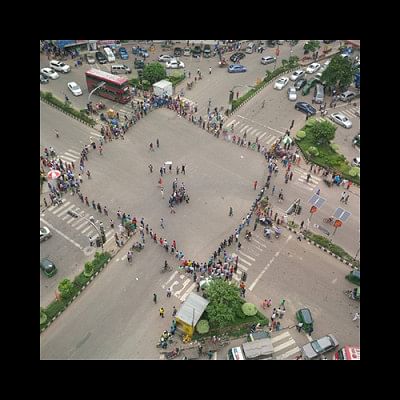 Earlier in the day, East West authorities told students that there will be no tuition fee hike in next three years, Ishfaq Ilahi Choudhury, registrar of the university, confirmed The Daily Star.
However, students rejected the assurance and blockaded Rampura road pressing the government to withdraw the VAT on "education – a fundamental need".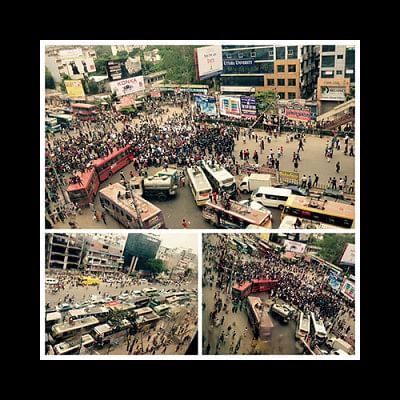 #NoVatOnEducation "NBR issues fresh clarification on VAT; students want it gone altogether, to hold agitation... http://t.co/nOSDxnIEyl

— The Star (@TheStarWeekend) September 13, 2015
Anti-VAT agitation spread like wildfire after police opened fire on a demonstration of East West University students in Rampura last Wednesday. The next day, students stopped capital Dhaka on its tracks for a day placing blockades along key veins of the capital.
ALSO READ: Students demo stops Dhaka on Thursday
In face of mass demonstration, the government "clarified" that the VAT was to be paid by respective universities and "it would not be taxed from the students".
The students however have rejected the "explanation" and threatened to wage strike for three-days, starting from Sunday, if the government does not remove the 7.5 percent VAT.
#NoVatOnEducation Dhanmondi 27 at the moment. More updates to follow. http://t.co/1na7wGvaPn

— The Star (@TheStarWeekend) September 13, 2015
ALSO READ: PM Sheikh Hasina speaks on anti-VAT agitation at parliament
Today, Students of Stamford University, University of Liberal Arts, United International University and University of Asia Pacific blockaded Satmasjid Road in Dhanmondi during the strike.
Students of Daffodil University and other universities blockaded Dhanmondi 27 road on the Mirpur Road. North South and International University students blockaded Bashundhara.
Uttara's House Building area was blockaded around 11:00am, said Abu Bakkar Siddiq, officer-in-charge of Uttara Model Police Station. It caused a gridlock on Dhaka-Mymensingh highway.
News agency UNB reports, a chase and counter chase took place there between cops and students.
In Chittagong city, students blockaded Wasar Mor for about one-and-half hour from 11:30am, said Aziz Ahmed, officer-in-charge of Chakbazar Police Station.
In Sylhet city, Court Point, Shaheed Minar and Surma Points – key points in the city – were blockaded by the students, according to Kotwali police OC Sohel Ahmed.
In Rajshahi city, students marched out and held a demonstration at Kalaimari area around 12:30pm, said Iftekhayer Alam, assistant commissioner of Rajshahi Metropolitan Police.