Death penalty for yaba offenders
Says proposal for a new narcotics law with harsh penalties for producing, carrying, trading or storing the crazy drug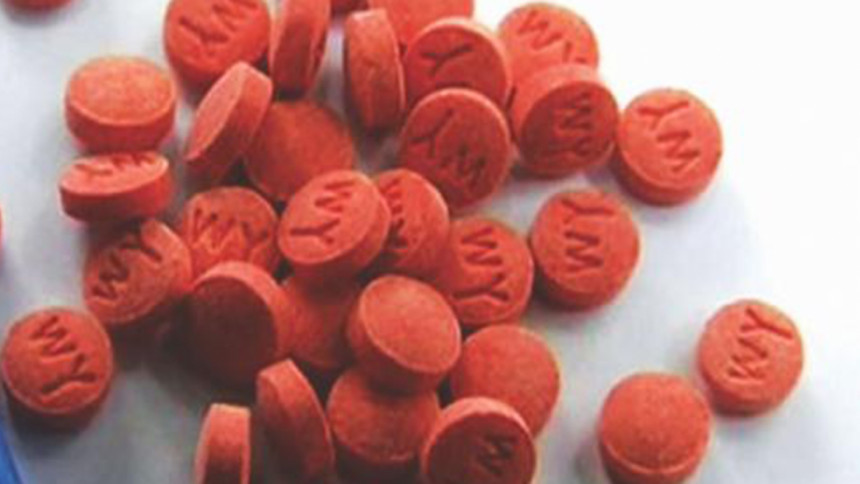 One could be sentenced to death for carrying, trading, storing or processing yaba weighing over five grams, according to a draft law approved in principle by the cabinet. 
Death or life imprisonment could be meted out if any institution or individual supplies, patronises or invests or colludes in drug crimes, according to the proposals approved yesterday.
If a person carries, trades, stores, or processes yaba weighing less than five grams, he or she could be sentenced to five years in jail and fined, said the draft law placed at the cabinet meeting chaired by Prime Minister Sheikh Hasina at the Prime Minister's Office.
About 50 of the methamphetamine pills weigh five grams, according to officials of the Department of Narcotics Control.
Briefing reporters after the meeting, Cabinet Secretary Shafiul Alam said the Narcotics Control Act was formulated in 1990 and it was being updated after 28 years in line with UN conventions on drug trafficking and narcotics control, of which Bangladesh is a signatory.
Shafiul said there was no mention of yaba or shisha in Narcotics Control Act and those have been included in the draft. The draft law also introduces a provision for "dope tests" of suspects, the cabinet secretary said. If anybody is found positive in a "dope test" for banned substances, the person could face five to 15 years in jail.
There is also a provision that allows law enforcers to arrest everyone involved from the production to the final destination of drugs for conducting their investigation.
All narcotic substances in the world has been included in the proposed law, he claimed, adding that the government could include more in future with gazette notifications.
The cabinet secretary said those who carry, trade, store, produce or process narcotics would be considered the offenders.
SHISHA
The proposed law defined shisha as a mixture of essences of caramel-mixed fruit slices that contains more than 0.2 percent nicotine. The draft criminalises such shisha.
Heroin and cocaine have been classified as narcotics of the highest level.
People in possession of less than 25 grams of these two drugs could be punished with two to 10 years' imprisonment. If they have more than 25 grams the punishment could be death or life imprisonment. 
In the existing law, there is no provision for death sentence or life imprisonment for offences related to heroin and cocaine. The maximum punishment is 15 years.
YABA
The pace of yaba getting into the country and the rapid increase of its use, particularly by young people, is alarming, experts said.
Experts and rights activists, however, said all stakeholders, especially the law enforcers, should rather play their roles properly to prevent smuggling of drugs and their spread.
Otherwise harsher punishments would yield no good results, they said.
"We can't get rid of the drugs menace, especially yaba, without proper application of law," Nur Khan Liton, a human rights activist told The Daily Star.
He cautioned that harsher punishment often increases the chances of the law being abused.
"On many occasions, members of police used narcotics to illegally extract money from people. There are allegations that police put various drugs, including yaba pills, into people's pockets and threaten to frame them in narcotics cases to get money," he said.
The proposed law will ensure the punishment of law enforcers guilty of harassing people by putting various drugs, including yaba pills, into their pockets, said Home Minister Asaduzzaman Khan in response to a reporter's query yesterday.
"They will face punishment under this law," he said after attending a seminar in the capital.
He hoped that the law would help curb the drug menace.
Around 250 people were killed during the anti-narcotics drive that began on May 4 but yaba was still pouring into the country. Asked whether the drive was a failure, the home minister said there was no way it could be a failure.
"But we are also not saying that we are successful. We said that the anti-narcotics drive will control the drug menace."
The US National Drug Intelligence Centre says yaba can cause rapid heart rate, increased blood pressure, and damage small blood vessels in the brain that can lead to a stroke.
Chronic use can result in inflammation of the heart lining. Overdoses can cause elevated body temperature, convulsions, and death.
Yesterday, the cabinet also gave the final approval to the draft of Bangladesh Labour (amendment) Act -2018 and it also cleared the draft of the Bangladesh Technical Education Board Act-2018.