Ashulia RMG workers on hunger strike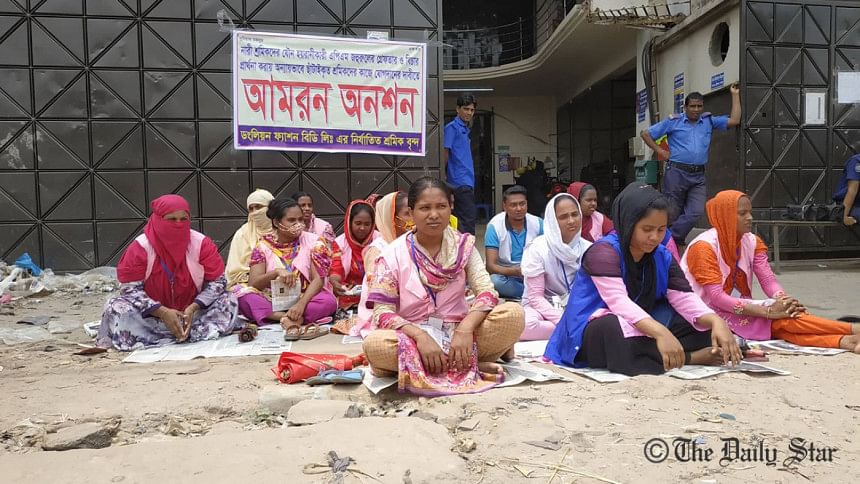 Workers of a garment factory, who were terminated allegedly for protesting sexual harassment of a fellow worker, started an indefinite hunger strike in Jamgor area of Ashulia today.
The seventeen workers, who used to work for Unit-1 of Donglian Fashion BD Ltd, began their hunger strike in front of the factory at 8:00am, our Savar correspondent reports from the spot.
The workers alleged that the assistant production manager of the company Zohirul Haque sexually harassed an 18-year old female employee earlier on March 18.
Two other employees of the factory witnessed the incident and informed others, the workers claimed.
Later, 17 workers of the factory went into work abstention and protested the harassment by the garment official.
The authorities closed the company on April 9, for a few days following the protest and as soon as the company was re-opened on April 15, the jobs of the 17 employees were terminated without clearing their arrears, the workers claimed.
Contacted, Rafiqul Islam, Manager (Admin and Compliance) of the factory said, "We did not sack them. We have issued a show-cause notice asking the 17 employees why they disrupted the work environment, but they did not come to explain".
About the harassment, he said that the authorities investigated and found that the incident was nothing serious.
Meanwhile, the female employee who was reportedly harassed does not want to file a police complaint fearing social stigma, the victim told the correspondent.
However, she wants justice for her fellow employees who lost their jobs protesting for her, she added.
Regarding the incident, a leader of Bangladesh Textile and Garment Workers League Sarwer Hossain told our correspondent that they tried to discuss the matter with the owners of the factory, but they refused to meet them.
Javed Masud, inspector (investigation) of Ashulia Police Station, said that they did not receive any complaint.
If they receive any complaint, they would take appropriate action, he said.