Death toll from cyclone Bulbul rises to 17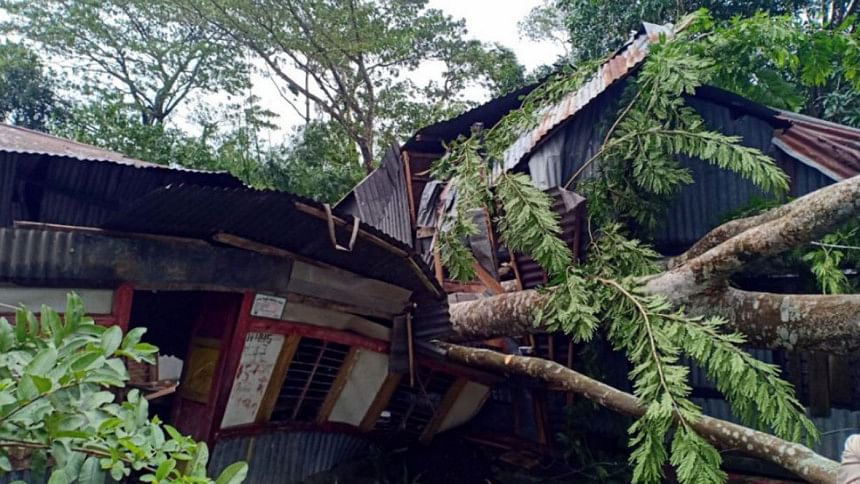 The death toll from cyclone 'Bulbul' that lashed Khulna and adjoining southwestern part of the country yesterday rose to 17.
Of the deaths, three were killed each in Khulna and Patuakhali while two each in Gopalganj, Shariatpur and Bagerhat and one each Barguna, Barishal, Bhola, Pirojpur and Madaripur districts.
However, Ayesha Akhter, assistant director of the Directorate General of Health Services (DGHS), confirmed deaths of nine people during the cyclonic storm.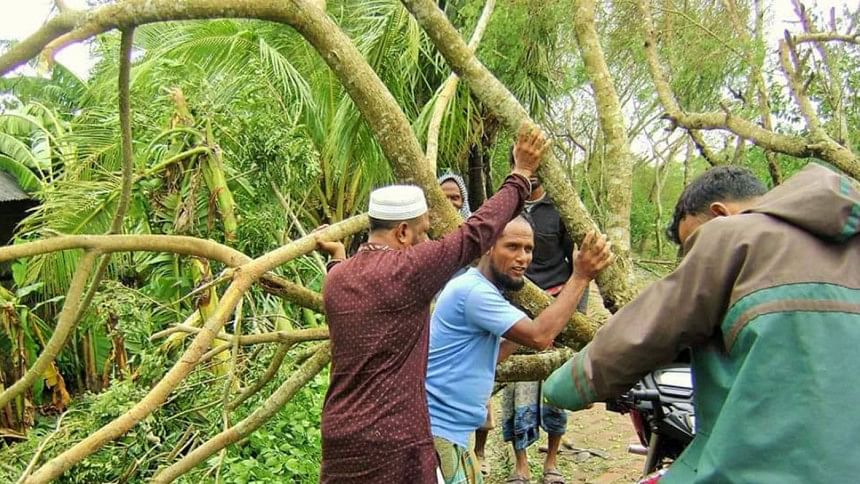 In Khulna, three people died as trees fell on them when the cyclone hit the areas Sunday morning. The deceased were identified as Promila Mandal, 52, of Dacope upazila; Alamgir Hossain, 35, of Digholia upazila; and Rahman Sheikh, 78, of Rupsha upazila.
In Patuakhali, a man, Abdul Hamid, 65, was killed under a tree as it fell on him at Mirzaganj and Bellal, 35, killed at Kalapara. Besides, Sufia Khatun, 60, died at a cyclone shelter while the storm swept the area.
In Gopalganj, two people -- Mazu Bibi, 67, of Sadar upazila and Sekel Hawladar, 70, of Kotalipara -- have died as trees fell on them during the storm, our Gopalganj correspondent reports.
In Bagerhat, two deaths were reported from Fakirhat and Rampal upazilas today.
Hira Begum of Fakirhat upazila and Samia Khatun of Rampal upazila died when trees fell on them, our local correspondent reported.
According to district administration, a total of 44,563 houses, crops of 35, 529 hectares of land and 7,234 fish enclosure were damaged by the storm. Besides, a total of 18.35 kilometers of dam was collapsed. 
In Shariatpur, Ali Box Chaiyal, 68, of Naria and Aleya Begum, 45, of Damudya died as trees collapsed on them during the storm yesterday afternoon, our Faridpur correspondent reported.
In Madaripur, Saleha Begum, 40, suffered injuries after her house was rattled by strong winds in Sadar upazila.
She was taken to Madaripur General Hospital in critical condition where doctor declared her dead around 3:00pm yesterday," said Saifuddin Gias, Upazila Nirbahi Officer of Madaripur Sadar.
In Barguna, Halima Khatun, 65, of Banai died at a cyclone centre while the cyclone ripped through the area, our local correspondent reports quoting Upazila Nirbahi Officer Anisur Rahman.
In Barishal, Ashalata Mazumder, 60, was killed as a tree collapsed on her at Ujirpur municipality around 2:00pm, said Mostaine Billah, deputy commissioner of the district.
In Bhola, Khorshed, a fisherman, was found dead at Sreepur yesterday afternoon after a fishing trawler capsized in Elisha river. Four fishermen are still missing.
In Pirojpur, Nani gopal Mandal, 55, a resident of Nazirpur died during the cyclonic storm.