Cyclone Bulbul: 4,589 trees damaged in Sundarbans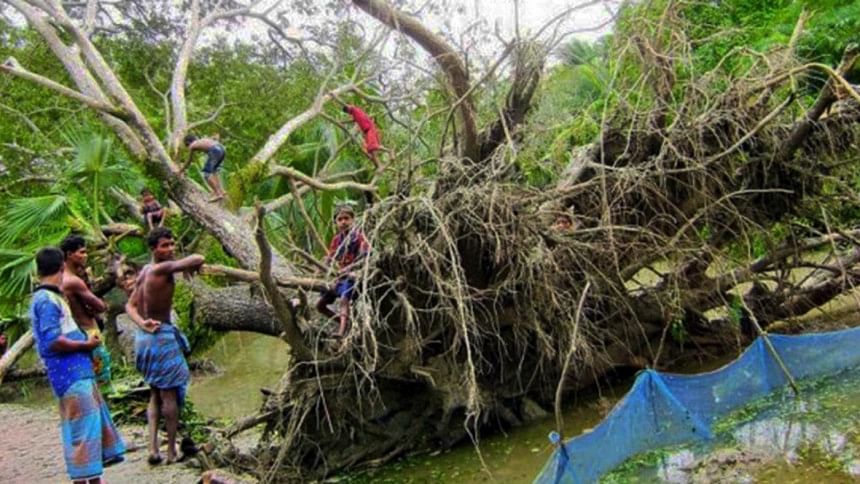 At least 4,589 trees were damaged under the influence of Cyclone Bulbul in Sundarbans, according to a report prepared by Bangladesh Forest Department.
No information could be determined about any wildlife being affected by the cyclone, said the report which was sent to the BFD head office in Dhaka on Thursday evening.
Meanwhile, infrastructure worth Tk 62.58 lakh was damaged in the Sundarbans due to the cyclone, our Khulna correspondent said quoting the report.
Sundarbans (west zone) was most affected by Cyclone Bulbul as it first made landfall in India and then entered Bangladesh through Sundarbans in Satkhira district.
According to senior meteorologist of Khulna zone Amirul Azad, windspeed of Cyclone Bulbul was around 120-130km/hr when it was entering Bangladesh through Sundarbans.
The windspeed had significantly reduced to 80-100km/hr by the time Cyclone Bulbul reached the localities, the correspondent added quoting the meteorologist.
In the west side of Sundarbans, 4,002 trees worth Tk 41.73 lakh were damaged, Bashir Al Mamun, divisional forest officer (Sundarbans West) was quoted as saying.
Meanwhile, Bulbul damaged 587 trees worth around Tk 62,000 in Sundarbans (East Zone), Mahmudul Hasan, divisional forest officer (Sundarbans East).