Curbing traffic jam: JS body formed to suggest ways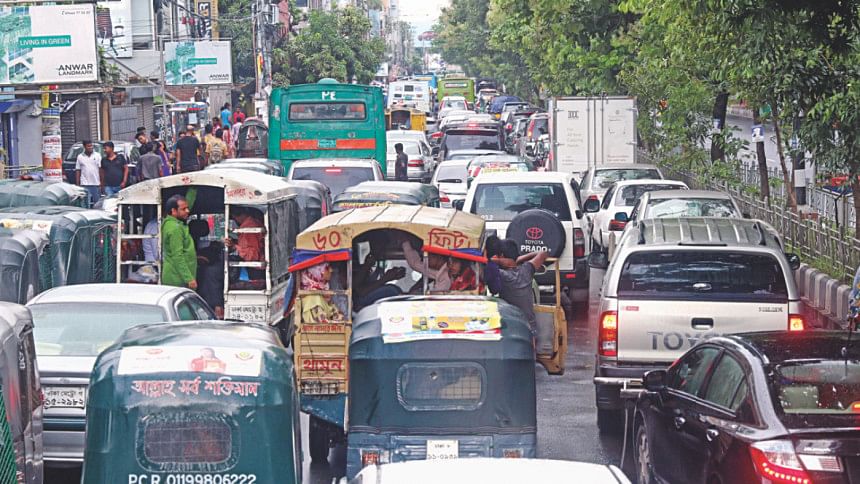 The Parliamentary Standing Committee on Home today formed a three-member sub-committee to find ways to reduce Dhaka's traffic agony.
Headed by Abu Sayeed Al Mahmud Swapan, a ruling Awami League lawmaker, the sub-committee has been asked to submit its report in the next committee meeting scheduled to be held in a month.
Terming Dhaka's traffic congestion situation an alarming issue the parliamentary body said it has to be reduced at any cost.
"Buyers, businessmen, foreigners cannot come in Dhaka due to horrific traffic jams, a city cannot be run like this, therefore, the committee asked the ministry to reduce it at any cost," Tipu Munshi, chief of the parliamentary watchdog told reporters after emerging from the meeting at Jatiya Sangsad this afternoon.
Munshi, also a ruling AL lawmaker, said half of the time of their meeting was spent on discussing the issue.
Minister for Home Asaduzzaman Khan and high officials of police and Rapid Action Battalion (Rab) were present at the meeting.
The committee sources said, top officials of traffic authority told the meeting that they failed to reduce traffic congestion in the capital despite their outmost efforts.
Initiative from a higher level of the state was needed to meet the issue, it said.
In the meeting, police officials brought out a proposal on official use of the vehicles seized at different times.
Munshi said, the ministry would send a letter to law ministry seeking their advice whether the police will be able to use the seized vehicles.