Crocodile lays eggs at Khan Jahan Ali's shrine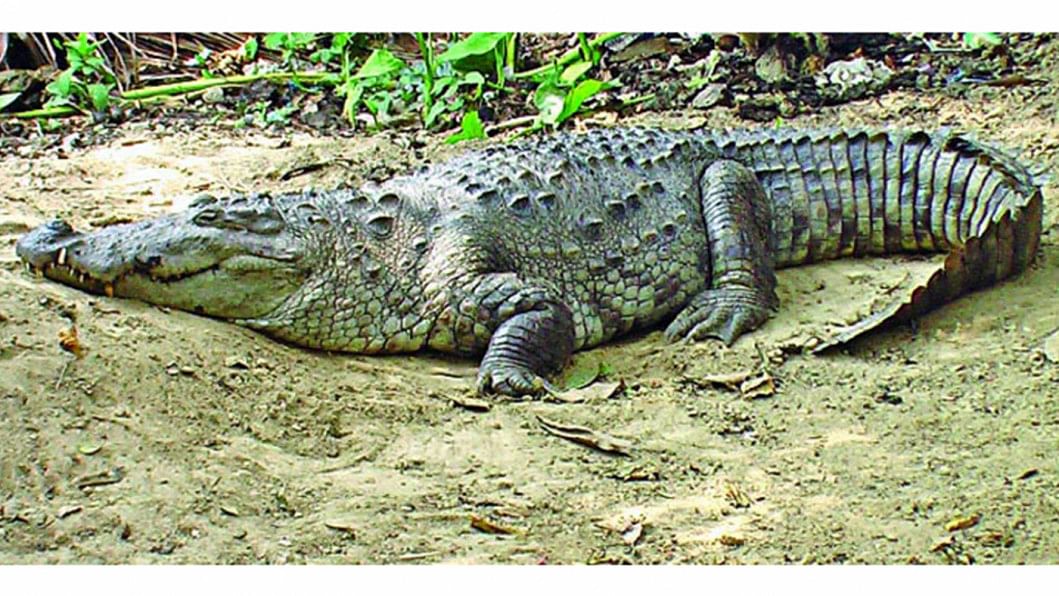 A female crocodile in a pond at the shrine of Hazrat Khan Jahan Ali (R) in Bagerhat has laid eggs.
The crocodile laid around 60-70 eggs on April 28-29, said Shar Ali Fakir, head khadem of the shrine.
The crocodile has been basking in the scorching heat of the Sun clinging to the north side of pond where it laid the eggs in a hole and covered them with dirt, reports our correspondent quoting Shar Ali.
"We have made bamboo fencing to protect the eggs as many people are rushing there to see the crocodile eggs. The exact number of eggs is not confirmed as those are covered with dirt," he said.
Occasionally, the crocodile comes down to the pond for a short time and then return to the eggs again. We hope that the eggs will be hatched in August, the head khadem further said.
Hazrat Khan Jahan (R) used to raise two crocodiles named Kalapahar and Dhalapahar in this pond. None of that pair is alive now. The marsh crocodiles now living in the pond were received from the Indian government, he added.
"There are two marsh crocodiles in the pond now, one is male and the other is female. After trying them for breeding through both natural and artificial means for years, we were not successful to hatch babies from the eggs,'' Bagerhat District Livestock Officer Dr Saifuzzaman Khan Bagerhat said.
"We have given the mother crocodile medical treatment. Expert advice was also taken about this. We thought that the sperm of the male crocodile does not properly fertilise the female crocodile's eggs," he said.
Apart from this, there is a possibility that the fertility of the male crocodile can reduce due to not having a good environment, Dr Saifuzzaman added.
"The crocodiles in the pond are one of the traditions of the shrine of Hazrat Khan Jahan Ali (R). We have not been able to hatch babies from the eggs till now," Bagerhat's Deputy Commissioner Tapan Kumar Biswas said.
Doctors and experts from the Department of Livestock are being consulted in this regard, he said.