Cocaine worth TK 22.50cr seized in Khulna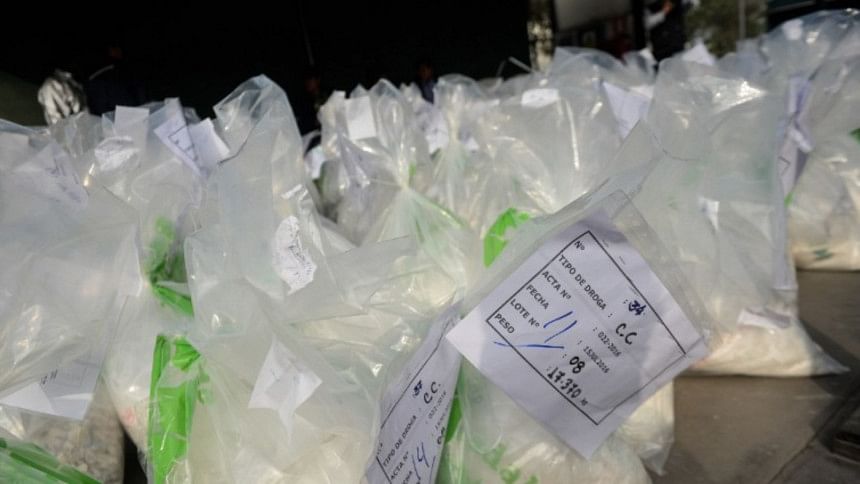 Rapid Action Battalion (Rab) in separate overnight drives arrested six alleged drug smugglers and seized 2.250kg cocaine worth about Tk 22.50 crore last night from different areas of Khulna.
Rab officials said the arrestees were idetified as Md Sohel Rana, Bikash Chandra Biswas, S M Ershad Hossain, Md. Arifur Rahman Sagir, Bikash Chandra Mondal, and Fazlur Rahman Fakir.
A team of Rab led by senior ASP Utpal Kumar Roy conducted a drive last night in city's Moylapota area responding to secret information that a gang of smugglers gathered there to sell drugs, said senior assistant director of RAB-6 Md. Zahid Hossain.
Sensing the presence of law enforcement agencies, five to six presumed drug smugglers managed to flee while Sohel Rana was caught red handed with 250 grams of cocaine, he added.
Rab members also arrested Arifur Rahman Sagir from his Gagon Babu's residence in the city according to Rana's confession.
Later, the elite anti-crime force conducted separate drives in the city and district along with two arrestees early today and arrested other four persons from their respective residence in connection with drug smuggling.
Law enforcers also seized around 2 kgs cocaine wrapped with three polythene bags from their possessions, Hossain said.
The arrested persons and seized cocaine were handed over to Khulna Kotwali Police Station.