Voting in Jamalpur centre suspended over ballot snatching
Clash disrupts voting at Kushtia centre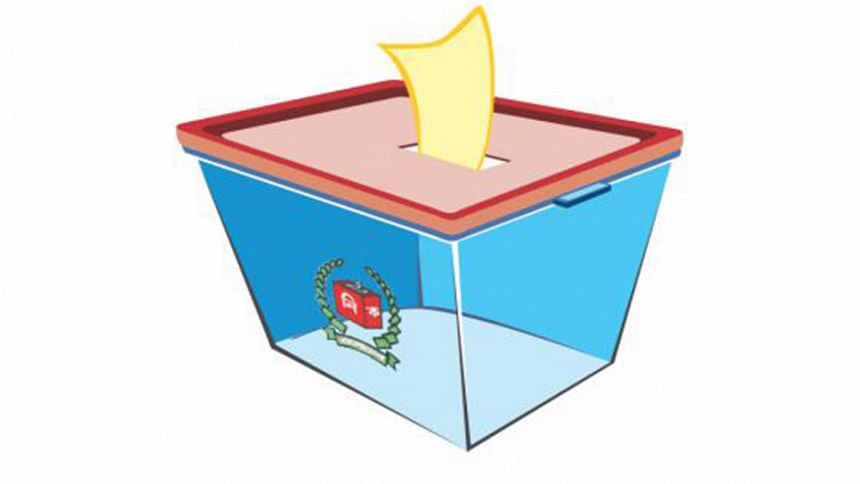 Voting at a polling centre in Nayanagar union of Melandah upazila of Jamalpur was suspended as miscreants tried to snatch ballot boxes before the second phase of the union parishad polls started this morning.
Meanwhile, a clash between the supporters of two candidates disrupts voting at a polling centre in Daulatpur upazila of Kushtia for around 20-minute.
 JAMALPUR
Around 30 minutes before the polling began at Mama-Bhagina Government Primary School centre in Nayanagar union, a group of armed miscreants entered the centre, private news agency UNB reports quoting Upazila Nirbahi Officer John Kenedy Jambil.
The hoodlums then took a number of ballot papers and started stamping, the UNO added.
Later, the returning officer suspended voting at the polling centre.
KUSHTIA
Half an hour after voting began in the second phase of union elections, a clash broke out at Aria Government Primary School polling centre at Aria union between the followers of Awami League-nominated candidate Sayed Ansari Biplob and rival aspirant Tarique Al Mamun when both the groups tried to break lines.
Sensing danger, local upazila nirbahi officer (UNO) Tawfiqur Rahman suspended the elections around 8:30am, presiding officer Amzad Hossain told The Daily Star.
The voting resumed after 17 minutes, the UNO said.