Hajj flight begins tomorrow
For the first time immigration formalities of some pilgrims to be completed in Dhaka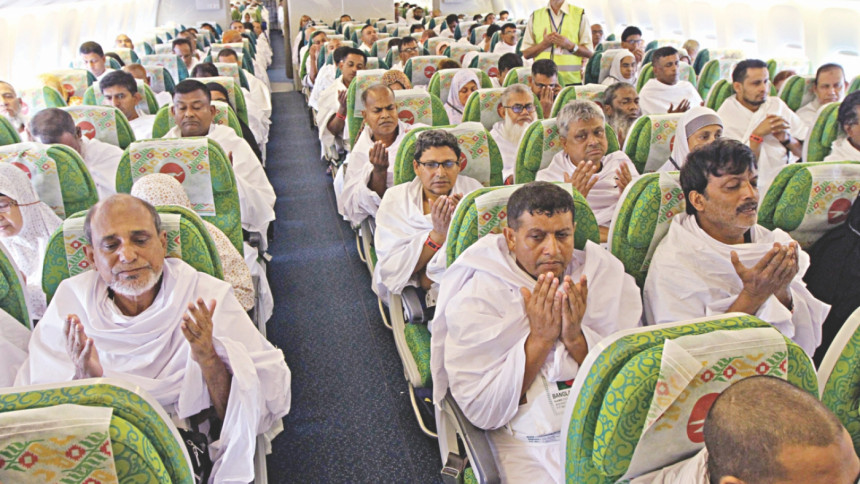 This year's Hajj flight carrying Bangladeshi pilgrims will start for Saudi Arabia from tomorrow.
The first hajj flight--BG-3001 is scheduled to fly to Saudi Arabia from HazratShahjalal International Airport in Dhaka at 7:15am with 419 pilgrims on its board, officials at the national airliner said.
This year for the first time, the immigration formalities of some Bangladeshi pilgrims will be completed in Dhaka, Anisur Rahman, secretary of religious affairs ministry, said.
"Bangladeshi hajj pilgrims this year will not have to wait for completing the immigration process at Saudi Arabia airports as the Saudi government is going to do it in Dhaka," M Shahadat Hossain Toslim, president of Hajj Agencies Association of Bangladesh, told The Daily Star. 
After landing at Saudi Arabia airports, the pilgrims can enter the country through jet bridge without facing immigration formalities, he added. 
Talking to The Daily Star, several people, who had performed hajj in recent years, said it would be a great relief for Bangladeshi pilgrims.
It often takes hours -- even up to six hours -- to finish the immigration procedures at airports in Jeddah and Riyadh for Bangladeshi citizens, they alleged.
Only two countries -- Malaysia and Indonesia -- can now complete the immigration process of a number of their pilgrims at their own airports, sources said.
Some 1,27,198 pilgrims from Bangladesh are set to perform hajj this year.Biman will carry 63,599 passengers, which is about half of the number of total hajj pilgrims.
The remaining pilgrims will be flown by Saudi Airlines, the national carrier of Saudi Arabia which will start its hajj flight on July 6.
Biman is going to operate 189 pre-hajj flights, 157 dedicated and 32 scheduled flights from today to August 5, by its own four 'Boeing 777-300ER'.
The airlines will operate 11 flights to Madina from Dhaka for the first time this year. Apart from Dhaka, 19 hajj flights will be operated from Chattogram while three from Sylhet.
Biman will operate 176 post-hajj flights, 147 dedicated and 29 scheduled flights from August 17 to September 15.