FF quota seekers postpone movement until Oct 14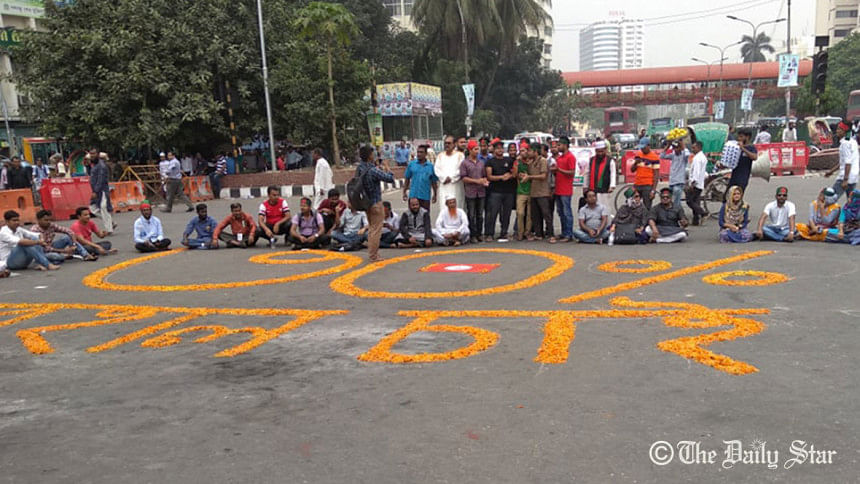 Children and grandchildren of freedom fighters who were demonstrating demanding reinstatement of 30 percent quota facilities in government jobs for them today postponed their protest until October 14.
The decision came following an assurance from Shipping Minister Shajahan Khan of meeting their demand.
They, however, threatened to wage a tougher movement if their demands are not met by the time.
Shajahan visited the protesters at Shahbagh intersection around 7pm and requested them to postpone their blockade programme until October 14, assuring them of meeting their demand within the period.
In response to the request, the spokesperson of 'Mutijuddha Mancha' announced the postponement of their agitation programme.
Earlier, under the banner of 'Mutjuddha Mancha', the protesters took position at Shahbagh intersection putting barricade on all the roads around 5pm for the fifth consecutive day.
Meanwhile, indigenous and physically challenged students demanded 5 percent quota reinstatement for them in public service.
Physically challenged students under the banner of 'Protibondhi Shikkharti Oikya Parishad' demonstrated in front of the National Museum at Shahbagh in the afternoon demanding that the 5 percent quota in the government jobs for them is reinstated.
They gave a 48-hour ultimatum to fulfill their demand, saying they would hold a protest rally at Shapla Chattar of Motijheel on Thursday if their demand goes unheeded.
Besides, indigenous students demanded the reinstatement of 5 percent quota reserved for them in all categories of government jobs.
They placed the demand under the platform of Adivasi Quota Songrokkhon Parishad at a press conference at Madhur Canteen of Dhaka University.