Villages inundated as Dharla, Teesta flow above danger mark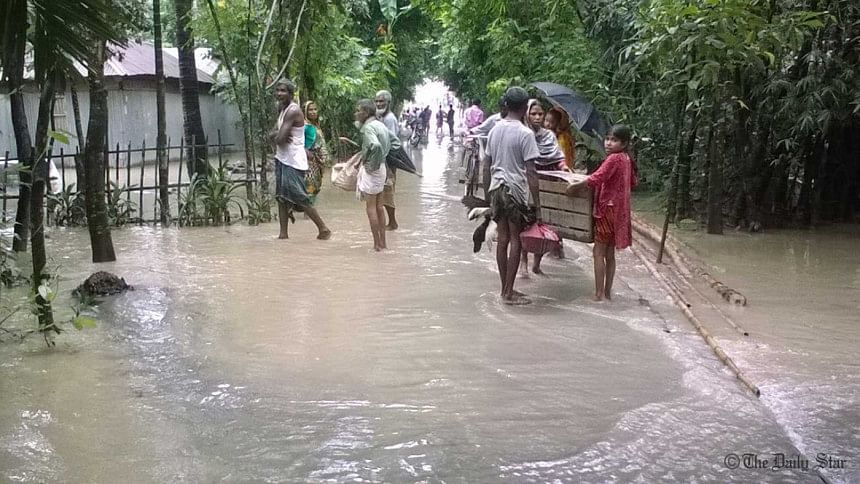 Villages in the northern districts of Lalmonirhat and Kurigram have been hit hard by flood as the water of Dharla and Teesta rivers were flowing above the danger mark today.
In Kurigram, villages in two unions of Sadar upazila were inundated following onslaught of flood waters after two embankments of the Dharla River gave away today.
Read More: Heavy rains raise fresh flood alarm
The embankment of the Dharla near Mondolpara area of Kathalbari union of the upazila was damaged around 11:00am resulting in floodwaters rushing into the villages, our Kurigram correspondent reports from the spot.
The local bazaar in the area went under knee-deep water in minutes following the damage, the correspondent reports.
Meanwhile, another embankment near Mondolpara area gave away around 3:00am today.  Many people of the villages have been reported missing as well, the correspondent reports quoting locals.
Over loudspeakers, residents of Kathalbari union are being urged to move to the Government High School in the area as soon as they can.
The water of the Dharla River is flowing 108cm over the danger mark, the correspondent quoted Bangladesh Water Development Board (BWDB) sources as saying.
Kurigram Deputy Commissioner Abu Saleh Mohammad Ferdous Khan visited the affected areas today.
Meanwhile, UNB reports, more than two lakh people of 30 unions in Lalmonirhat district's five upazilas -- Patgram, Kaliganj, Hatibandha, Aditmari and Sadar -- have been marooned by floodwaters as both the Teesta and Dharla rivers were flowing above the danger level.
The flood bypass road on the Teesta Barrage broke down due to opening of 54 gates of Gajoldoba Barrage in India and onrush of water coupled with heavy rain in the last five days, said BWDB Executive Engineer (Dalia Division) Mustafizer Rahman.
Meanwhile, at least 34 villages were flooded following the broke down of flood bypass road.
Local BWDB office on Sunday morning has issued red alert in Teesta Barrage area, asking the people living in 63 chars of Teesta and Dharla to keep updated with the latest flood situation, said Mustafizer Rahman.
The floodwaters also prompted disruption of bus and rail communications of Lalmonirhat with other parts of the country.
Local officials of BWDB said Teesta River was flowing 65 centimetres above the danger mark early Sunday.
Meanwhile, 18 villages went under water as Itpota dam, Shiberkhuti and Khatamari dams in Moghalhat area in Sadar upazila have broken down due to heavy current of the river. Patgram town saving embankment also collapsed.
The worst affected areas are Dahgram of Patgram upazila, Dauabari, Patikapara, Sindurna, Saniajan of Hatibandha upazila, Bhotmari, Tushbhander of Kaliganj upazila, Mohishkhocha, Durgapur of Aditmari upazila, Rajpur, Gokunda Khuniagach, Borobari, Kulaghat and Mogolhat under Sadar upazila.
Houses, roads and educational institutions have been eroded by the heavy current of Teesta and Dharla rivers.
Regarding measures taken to prevent erosion, WDB Lalmonirhat deputy-Assistant Engineer Kamrul Islam said, "We have started dumping GO bags (sandbags) to prevent erosion at the vulnerable points of the barrage."
District Education Officer Nobez Uddin said a total of 168 educational institutions in the district were declared closed for floodwaters.
Several thousands of farmers have to face heavy losses as more than 300 ponds were washed away by flashfloods, said Rezaul Karim, district fisheries officer.
Lalmonirhat deputy commissioner Shafiul Arif told UNB that overall flood situation in the district has turned serious, leaving more than two lakh people marooned. Bus and train connection have declared suspended due to the floods.
On last Sunday, some 1,600 packets of dry foods have been distributed among the flood-affected people, he added.