Bangladesh failed at times to control security forces: US
'Extrajudicial killings, bloggers murders remain major HR problems'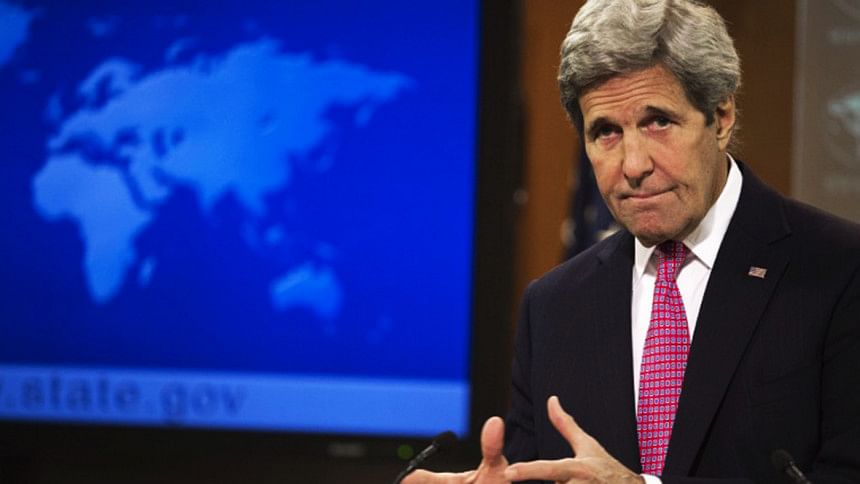 The United States has said the government of Bangladesh took 'limited measures' to investigate and prosecute cases of abuse and killing by security forces.
The US, in its 2015 Country Reports on Human Rights Practices, claimed authorities failed at times to maintain effective control over security forces.
The report listed extrajudicial killings, forced disappearances, the killing of secular bloggers and others by groups espousing extremist views, some restrictions on online speech and the press, early and forced marriage and gender-based violence, and poor working conditions and labour rights as most significant human rights problems in Bangladesh.
Other human rights problems included torture and other abuse by security forces, arbitrary arrests and detentions, weak judicial capacity and independence, and lengthy pretrial detentions, according executive summary of the report's Bangladesh part.
Releasing the report at the US Department of State, US Secretary of State John Kerry said the United States is opposed to the use of torture in any form at any time by any government or non-state actor.
"A government that fails to respect human rights, no matter how lofty its pretentions, has very little to boast about, to teach, and very little indeed in the way of reaching its full potential," Kerry said.
The US thinks weak regard for the rule of law not only enabled individuals, including government officials, to commit human rights violations with impunity but also prevented citizens from claiming their rights, according to Bangladesh part of the report. Authorities infringed on citizens' privacy rights. Politically motivated and intraparty violence remained serious problems and official corruption remained a problem, the US report observed.
According to the report, some nongovernmental organisations (NGOs) faced continued legal and informal restrictions on their activities.
"Women and girls suffered from unequal treatment. Many children were compelled to work, primarily in the informal sector, due to either economic necessity or, in some instances, trafficking."
Child workers were at times targets for violence and abuse, the report said mentioning that discriminating against persons with disabilities was a problem, especially for children seeking admittance to public school.
Instances of societal violence against religious and ethnic minorities persisted, although many government and civil society leaders claimed these acts had political or economic motivations and should not be attributed wholly to religious beliefs or affiliations, the report further said.
The US thinks discrimination against persons based on their sexual orientation continued.
The report described Bangladesh as a secular, pluralistic, parliamentary democracy.
Prime Minister Sheikh Hasina and the Awami League (AL) retained power in the January 2014 parliamentary elections.
The anniversary of the elections precipitated months of a nationwide transportation blockade and violent general strikes by the Bangladesh Nationalist Party (BNP), which also instituted a boycott halfway through April municipal elections in response to numerous allegations of vote rigging and interference, the executive summary of the report reads.