Ensure peace, protect future generations: Pranab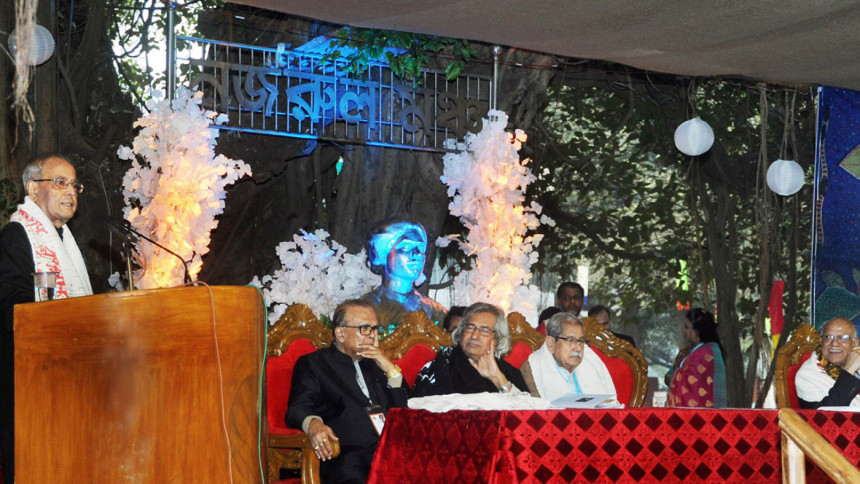 Former Indian President Pranab Mukherjee today urged all writers, artists, poets, novelists and cultural activists to work for global peace and protect the future generations from the poison of terrorism.
"Innocent people are being killed. People are becoming living human bombs," he said pointing finger at the loss of innocent lives in worldwide terrorism.
While addressing the closing session of the 'International Bengali Literature Conference' at Bangla Academy in Dhaka, Pranab Mukherjee said it is not clear what the terrorists want but they become living human bombs.
"Not only environment pollution, the biggest pollution is in people's thoughts, languages and minds," he said adding only the writers, artists, poets, novelists and cultural activists can take the responsibility to protect people from such pollution. not the international institutions of the United Nations.
The former Indian president and a family friend of Bangabandhu Sheikh Mujibur Rahman said the terrorists even had attacked Pentagon challenging the USA.
"We're determined to saving the new generations from the poisonous world and poison of terrorism," he said urging creative people, writers and artists to work to that end.
Recalling the contributions of great souls who fought for Bangla language and those played role in making Bangla an international language, Pranab said all should stay grateful to them each and every moment.
"Where will you find more suitable place than Dhaka to arrange such conference?" he said appreciating the efforts made by the organisers in successfully completing the conference.
"I feel honored to be here," Pranab said mentioning that the Dhaka Declaration has correctly evaluated the present situation of the world.
"This world needs to be changed," he said expressing displeasure over the happenings in the last one decade, especially the loss of innocent lives.
Wishing all a good future, Pranab hoped that the coming Bangla New Year will also bring more happiness for all.
Convener of the conference Prof Anisuzzaman, Finance Minister AMA Muhith, Cultural Affairs Minister Asaduzzaman Noor, State Minister for Foreign Affairs M Shahriar Alam, key coordinator of the conference Nasiruddin Yousuf and Bangla Academy Director General Shamshuzzaman Khan also spoke on the occasion.
Finance Minister Muhith said the conference was a big event and such an event took place back in 1974 initiated by Bangabandhu Sheikh Mujibur Rahman.
Prof Anisuzzaman said the conference brought a chance to know and learn from each other and hoped that more similar conferences will be held in Bangladesh in the coming days.
Cultural Affairs Minister Noor urged all to fight against evil forces and continue upholding Bangla through such events.
Shahriar Alam said the relations between Bangladesh and India reached new heights and laid emphasis on holding such events.
Speaking on the occasion, the Bangla Academy DG said the conference will be a historic one with the presence of Pranab Mukherjee.
He urged the friends from India to learn more about Bangladesh and sought initiatives to allow Bangladeshi TV channels in India.
Prime Minister Sheikh Hasina inaugurated the three-day literature conference on Saturday at Bangla Academy.
Bangladesh attractive place for investment: Pranab
Earlier today, Pranab Mukherjee said Bangladesh is now an attractive place for investment.
Pranab Mukherjee said this when he met Prime Minister Sheikh Hasina at her official residence Gono Bhaban today.
After the meeting, prime minister's Press Secretary Ihsanul Karim briefed reporters.
Pranab Mukherjee said he had been involved in politics for a long time and worked as a member of the Indian Lokshobha in addition to holding a constitutional post.
He said now he is passing time reading books following his retirement from the presidency of India.
Pranab Mukherjee recalled that his first foreign tour as the President of India was Bangladesh in March 2013.
On his arrival at Gono Bhaban, Prime Minister Sheikh Hasina received the former Indian president at its main entrance with bouquets. Pranab Mukjarjee's daughter Sharmista Mukherjee also accompanied him.
Welcoming Pranab Mukjarjee, Sheikh Hasina elaborated overall economic scenario of Bangladesh and said the poverty level has been brought down to 22 percent through various pragmatic steps of her government.
Hasina, however, said the economy witnessed losses to some extent due to the last year's floods in different parts of the country.
The prime minister also pointed out the Rohingya issue and said over one million Myanmar nationals who fled to Bangladesh from Rakhaine State following crackdown on them by government forces have been given shelter in Cox's Bazar on humanitarian ground.
Principal Secretary Nojibur Rahman and PMO Senior Secretary Suraiya Begum were present.
Later, the prime minister also hosted a luncheon in honour of the former Indian president.
Pranab Mukherjee arrived in Dhaka on Sunday afternoon on a four-day private visit to Bangladesh.