Dilip Kumar, Amitabh Bachchan conferred with Padma Vibhushan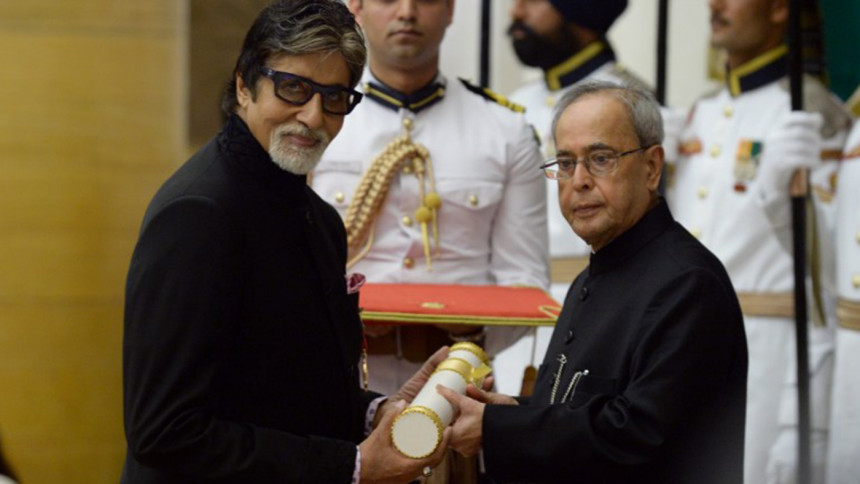 Cinema icons Dilip Kumar and Amitabh Bachchan were conferred with Padma Vibhushan -- India's second highest civilian honour -- by President Pranab Mukherjee on Wednesday here.
The awards, announced on the eve of this year's Republic Day, were accorded at an investiture ceremony at Rashtrapati Bhavan here. Prime Minister Narendra Modi and several union ministers attendced the function.
Besides Padma Vibhushan, the president conferred honours in other categories of Padma awards, namely Padma Bhushan and Padma Shri.
Assamese director Jahnu Barua was awarded the Padma Bhushan for his contribution to art over the years. Barua, who has made National Award-winning films like "And the River Flows" and "Aparoopa" in his mother-tongue, has been doing social work in the northeast related to art and culture for the past six years.
While Amitabh Bachchan exuded elegance and sophistication in a black bandhgala, Dilip Kumar couldn't make it to the ceremony to receive the honour in person.
Amitabh shared the news over Dilip Kumar's absence through micro-blogging website Twitter on Tuesday. He wrote: "@Amirmurt @TheDilipKumar he is unwell and shall not be there to receive his award...sad (sic)".
The 72-year-old star, who is known as the "Shahenshah" of the Hindi silver screen, has delivered some exceptional performances in his over four decades long film career.
With movies like "Deewar", "Agneepath", "Sholay", "Don", "Black" and "Paa", the actor has carved a special place for himself. Amitabh's wife Jaya Bachchan, son Abhishek Bachchan and daughter-in-law Aishwarya Rai attended the function.
Dilip Kumar, whose real name is Yusuf Khan, became a name to reckon with in the 1950s and 1960s, thanks to his performance in "Aan", "Daag", "Devdas", "Madhumati","Paigham", "Mughal-E-Azam", "Ganga Jamuna", "Leader" and "Ram Aur Shyam".
After working for about six decades, he bid adieu to arclights in 1998. His last movie was "Qila".
The awards were given out in the third batch this year. The first was when former prime minister Atal Bihari Vajpayee was presented Bharat Ratna at his residence last month.
The second investiture was held at Rashtrapati Bhavan on March 30, in which poet-lyricist Prasoon Joshi, filmmaker Sanjay Leela Bhansali and other prominent people received the Padma awards.