'Bangladesh assured Muslim world of fighting terrorism'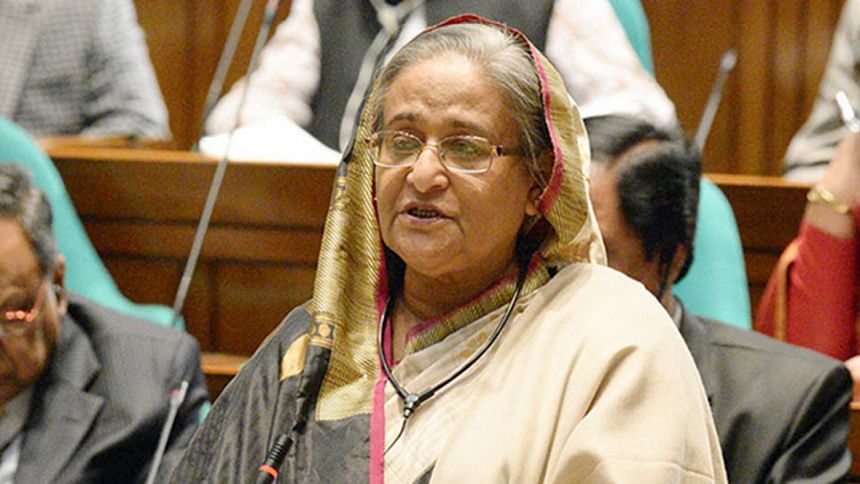 Prime Minister Sheikh Hasina today told the parliament that Bangladesh assured the Muslim world of doing everything necessary to fight militancy and terrorism.
"Bangladesh government is determined in this regard," she said in reply to a lawmaker's query.
"Islam is the religion of peace. We will always try to take this peace-loving religion to new heights. Our government will do whatever necessary to curb terrorism and militancy," she said.
"Our government has taken the decision to show zero-tolerance against militancy and terrorism. In no way shall we allow these militants and terrorists," she said.
SAUDI ALLIANCE A CHANCE FOR MUSLIMS TO UNITE
In a supplementary question, ruling Awami League Whip at the Parliament Shahiduzzaman Sarkar asked the premier whether her government took any initiative to unite the Muslim Ummah to combat militancy and terrorism carried out in the name of Islam in Muslim countries.
Responding to the supplementary question, the premier said she spoke of a united stand of the Muslim Ummah against militancy and terrorism to the King of Saudi Arabia, the OIC and other Muslim countries.
"The Saudi government has taken an initiative to fight militancy and terrorism. Bangladesh has joined the Islamic coalition. Almost 40 Muslim countries are in the coalition. It paved a way for the Muslim world to unite. Bangladesh has taken up this opportunity."