Bangladesh 6th in Asia with internally displaced people
19m displaced in Asia, China tops the list with 7.4m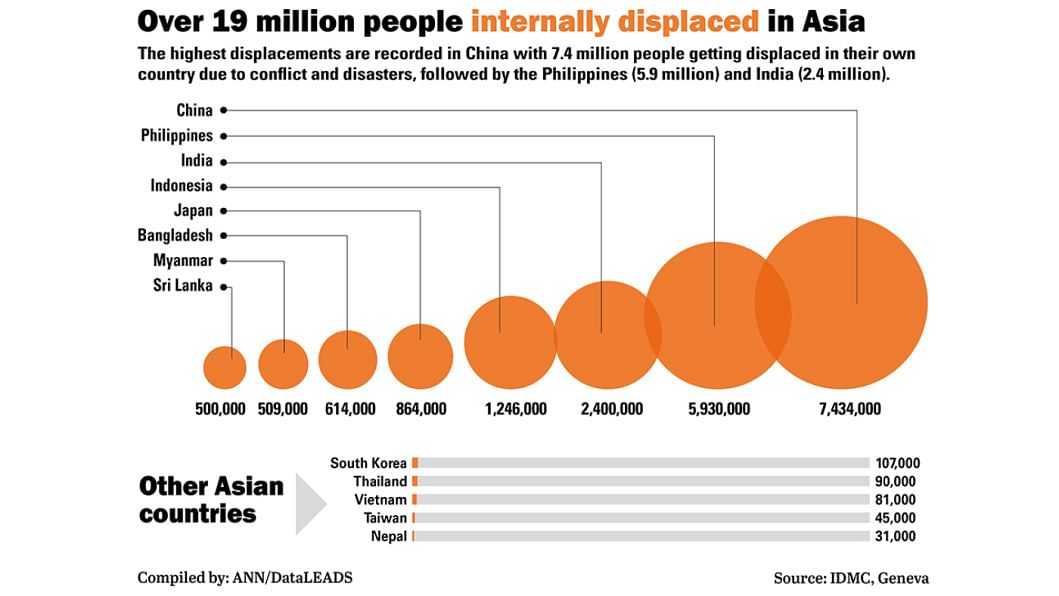 Bangladesh ranked sixth among the Asian countries with 614,000 people displaced in their own country, according to a recent report

of

the Geneva-based Internal Displacement Monitoring Centre (IDMC).
The highest displacements are recorded in China with 7.4 million people getting displaced in their own country due to conflict and disasters, followed by the Philippines (5.9 million) and India (2.4 million), the report said. 
The World is faced with the rising crisis of internally displaced people. Each year millions of people are being made homeless as a result of sudden disasters such as floods and storms, new figures show.  The majority of the people who are faced with the high risk of displacement live in Asian countries mostly struggling with various economic hardships. Eight countries with highest risk of internally displaced people are in Asia.
China tops the list with most number of internally displaced people due to the natural disasters. Around 7. 4 million people are displaced and earthquakes, storms, floods and geophysical hazards are mostly responsible for their displacement.
The Philippines has the second highest number of internally displaced people in Asia. Disasters due to typhoons are a major factor for displacement of people in the country. The armed conflicts in the southern island of Mindano has also forced people to dislocate. Clan based violence and human rights violations by state and non-state actors continue to push people away from their locations.
In India which has the third highest number of displaced people, displacement in recent years has been attributed to the environmental factors. India is prone to droughts, floods, tsunamis, earthquakes and cyclones. The third of country's population live in poverty and substandard housing which makes it difficult for them to cope in the face of natural disasters. Combined with these factors is the poorly planned urbanisation and environmental degradation which has led to risk of damage and displacement. Also, the political conflicts in various states of the country and increase of human rights violations also have led to people displacing and moving to safer areas.
In Indonesia, people have been dislocated because of protracted inter communal violence and insurgency related violence and as a result of which they have been unwilling to reintegrate and re-establish their lives. Conflict of Aceh, Free Papua Movement, attack on religious minorities, targeting of shia population in the country has forced people to displace, according to IDMC. 
People in Japan continue to bear the brunt of The Great East Japan Earthquake, persistent tsunamis and the Fukushima nuclear radiation disaster. The country has fifth largest number of internally displaced people in Asia.  
Floods and protracted ethnic conflicts has rendered thousands of  people displaced in Bangladesh making it country with sixth largest number of internally displaced people. 
Myanmar has also been witnessing inter community conflicts leading to violence and consequently displacement. The conflict between Buddhists and Muslims in the Rakhine state since 2012 has continuously been displacing people. 
Sri Lanka has been witness to a brutal war between State and Liberation Tigers of Tamil Elam (LTTE) which has resulted in thousands of people being displaced from Northern and Eastern provinces.
The conflict in Thailand between Malay Muslims and the State has resulted in internal displacement along with environmental disasters like recent floods in the county. The Buddhist minority in the state of Pattani has moved to safer places to evade the conflict. The displacement due to natural disasters has been mostly from rural to urban areas.
Refugees and people uprooted in their own countries are already at record-high numbers. Worse the internally displaced people are in a much difficult position. While refuges benefit from an established legal system of protection, those displaced internally lack any institutional support or assistance from international community or justice system.  
Copyright: DataLEADS/ Asia News Network