Bangabandhu killer's memorial plaque disfigured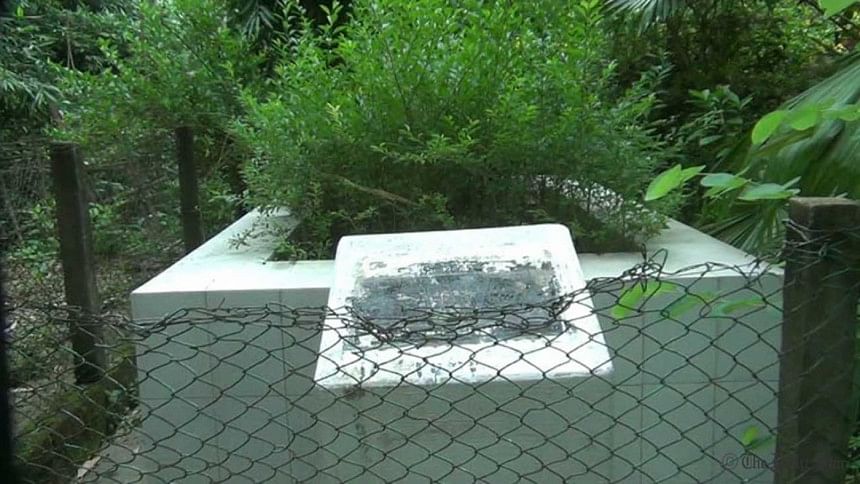 A group of BCL men and freedom fighters of Chuadanga district on Monday disfigured the memorial plaque at the graveyard of Major Bazlul Huda, one of the killers of Bangabandhu Sheikh Mujibur Rahman, where he was portrayed as a "national hero".
Bangladesh Chhatra League (BCL) disfigured the writing on the slab at Huda's graveyard located at Nagar Boalia village in Alamdanga upazila of the district, our Kushtia correspondent reports quoting Zanif Ahmed, general secretary of Chuadanga district BCL unit.
Major Huda was one of the key killers of Bangabandhu Sheikh Mujibur Rahman and many of his family members in 1975.
After a long trial, Huda along with 12 other military officers were convicted and sentenced to death. Huda's death verdict was executed on January 28, 2010. He was buried at his village home in the upazila.
Recently Huda's relatives installed a memorial plaque with titles like National Hero, Freedom Fighter and Shahid adorning the plaque, according to sources. .
Shafiur Rahman, Alamdanga upazila unit commander of Muktijoddha Sangsad with a group of freedom fighters visited the graveyard on Saturday and demanded immediate removal of the plaque.
On Monday, a group of BCL activists led by the organisation's secretary Zanif Ahmed and a number of local freedom fighters rushed to the spot and damaged the slab. Hundreds of villagers and freedom fighters of the area were present there.
A self-acclaimed killer's name cannot be portrayed in such way, said Shafiur Rahman, a freedom fighter of the village.
"We cannot bear such audacity of a killer in this soil," Shafiur