Bad weather frustrates potato seed sellers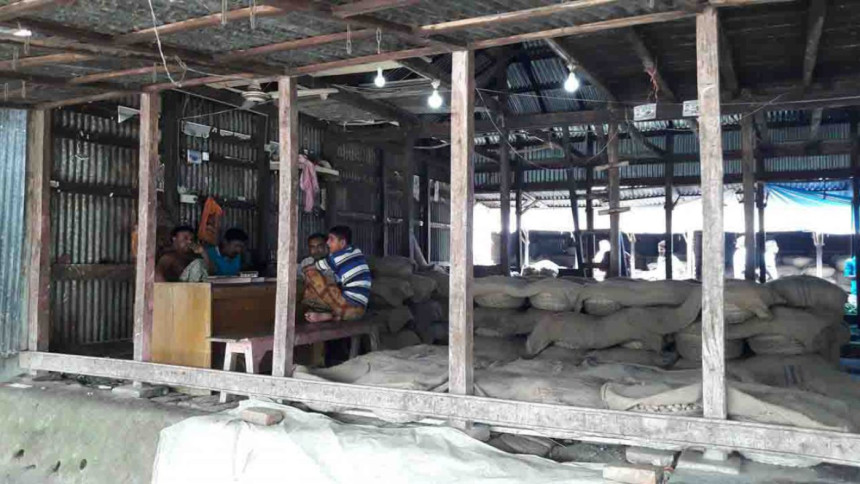 Sale of potato seeds at Boithakata bazar under Nazirpur upazila of the district has decreased alarmingly due to bad weather for the last few days, worrying the traders.
Wholesalers said they have been passing anxious times for around one week as they have not been able to sell potato seeds.
"Around 25 traders of potato seeds are sitting idle as there are hardly any buyers in the market," said Sohel Bahadur, a wholesaler in Boithakata bazar.
Traders in the market said they bring potato seeds from Jessore, Rajshahi and Dhaka, and wholesale buyers as well as local retailers buy those from them.
"Wholesale buyers from nearby Nesarabad, Nazirpur, Kawkhali and Bhandar upazilas in Pirojpur, and from different areas of Barguna, Patuakhali and Barisal buy potato seeds every year from Boithakata bazar," said wholesaler Jahirul Islam, adding that very few buyers came to the market during the last few days.
Beginning from November, trading in potato seeds continues till January, and around 1,000 sacks of seeds are normally sold every day. Each sack contains 84 kg of seeds. As the seeds cannot be stored for a long time, sellers have to sell them quickly.
"After bringing the seeds to the market, the biggest wholesale market of potato seeds in the southern region of the country, we can store them for a maximum of eight days," said wholesaler Md Rafikul Islam, adding that if they cannot sell them within this time, the seeds get damaged.
Selling and buying of potato seeds at Boithkata bazar starts from early morning to night time during the season, and normally around 300 wholesale buyers and local retailers collect potato seeds from there. But because of bad weather for the last few days, the number of buyers has decreased alarmingly as farmers fear that the seeds will get damaged, traders said.
"Normally, we sell one maund of potato seeds for Tk 600 to Tk 700, depending on the quality," said Md Abu Salek, adding that they face a loss of Tk 100 to Tk 150 per maund.
He added that they have stored the potato seeds and are not bringing new seeds to the market.