Ansar man arrested over killing colleague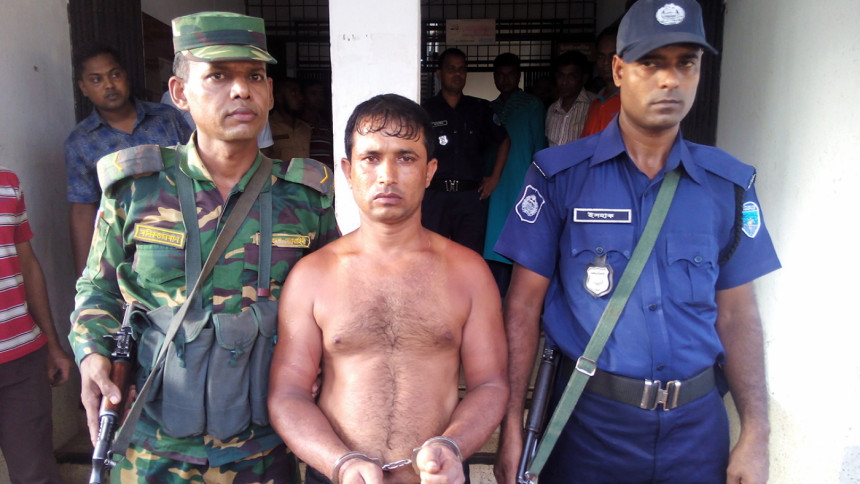 The Khagrachhari Ansar man, who allegedly shot dead his colleague after an altercation and fled yesterday, was arrested this afternoon.
Rafiqul Islam was held from Chowdhurypara of Dighinala upazila around 3:00pm, our Khagrachhari correspondent reports quoting police.
He has been arrested in a case filed with Dighinala Police Station over murder of Ansar Nayek Amir Hossain. A member of the dead victim's family filed the lawsuit this morning.
Khagrachhari Superintendent of Police Mozid Ali briefed reporters on the capture of Rafiqul. "He was spotted by locals. They caught hold of him and informed police."
He was being kept at Dighinala Police Station. Meanwhile, his firearm and 80 rounds of bullets were seized from a house in Dighinala's Alinagar area around 10:00am.
Rafiqul shot dead his colleague Amir at Chowdhury Tila Ansar camp after a row, Dighinala police Officer-in-Charge Shahadat Hossain Titu said yesterday quoting witnesses.
Rafiqul was on the run since then. The victim's son Farid Mia filed a murder case with Dighinala Police Station this morning around 10:00am.
On the other hand, Khagrachhari Sadar Hospital completed post-mortem on Amir's body which was later handed over to the family. He was buried after Zohr prayers this afternoon.