Air Force, 15 personalities receive Independence Award 2017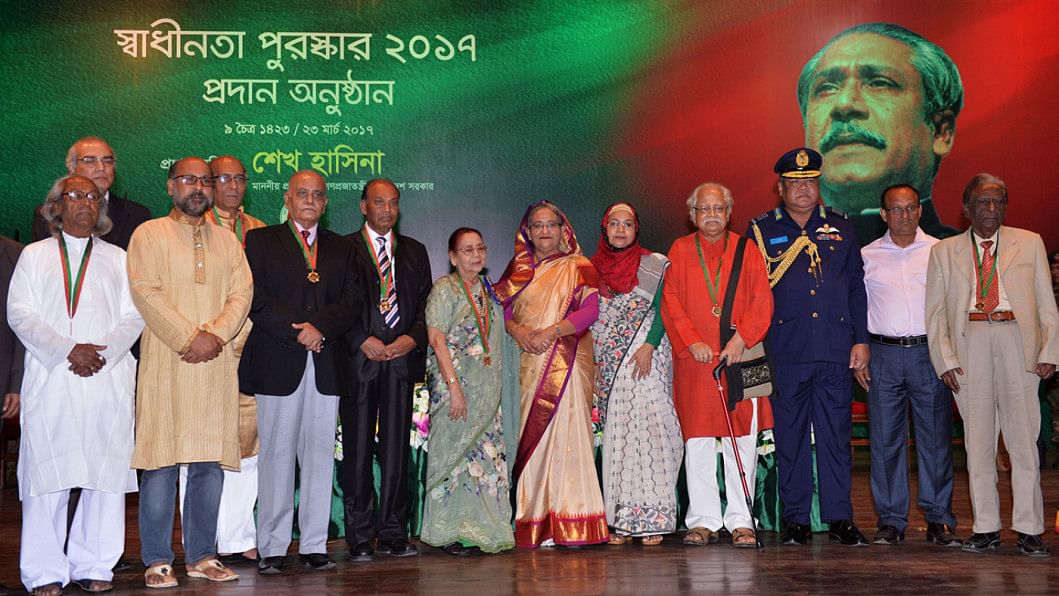 Prime Minister Sheikh Hasina today handed over the Independence Award 2017, the highest state award, to Bangladesh Air Force and 15 distinguished personalities including 1971 veterans.
The premier handed over a certificate, an 18-carat gold medal weighing 50-gram, and a Taka 3 lakh cheque to each of the recipients and their representatives at a function in the city's Osmani Memorial Auditorium this morning.
The award was given in recognition of their outstanding contributions to their respective fields.
Cabinet Secretary Mohammad Shafiul Alam conducted the award-giving ceremony and read out the citations of the awardees.
Group Captain (retd) Shamsul Alam Bir Uttam, former Bangladesh Betar official Ashraful Alam, former police super late Shaheed Md Nazmul Huq, former minister late Syed Mohsin Ali, Shaheed NM Nazmul Ahsan, Shaheed Faizur Rahman Ahmed and Bangladesh Air Force were given the Independence Award 2017 for their outstanding contribution to the War of Liberation.
The others who received the award for contribution to their respective fields are Prof Dr AHM Touhidul Anowar Chawdhury (medical science), Rabeya Khatun (litertaure), late Golam Samdani Koraishi (literature, posthumous), Prof Dr Enamul Huq and Ustad Bazlur Rahman Badal (culture), Khalil Kazi OBE (social service), Bangla Academy Director General Shamsuzzaman Khan (research & training) and late Prof Lalit Mohan Nath (research & training, posthumous) and Prof Mohammad Asaduzzaman (public administration).
On behalf of Bangladesh Air Force, Chief of Air Staff Air Chief Marshal Abu Esrar received the award from the prime minister.
On behalf of Shaheed Nazmul Haque his son Engineer Shahidul Islam Haque, on behalf of Syed Mohsin Ali his wife Syeda Saira Mohsin, MP, on behalf of Shaheed Nazmul Ahsan his younger brother MN Sadrul Ahsan, on behalf of Shaheed Faizur Rahman Ahmed his daughter Sufia Khatun, on behalf of late Golam Samdani Koraishi his son Golam Yazdani Koraishi and on behalf of late Prof Lalit Mohan Nath his wife Arati Nath received the award from the prime minister.
Later, on behalf of the award recipients, Prof Dr Enamul Huq shared his feelings with the audience upon receiving the award.
Ministers, advisers to the prime minister, state ministers, members of parliament, diplomats, high civil and military officials were present on the occasion.