ACC to quiz DIG Mizan's bodyguard, driver Sunday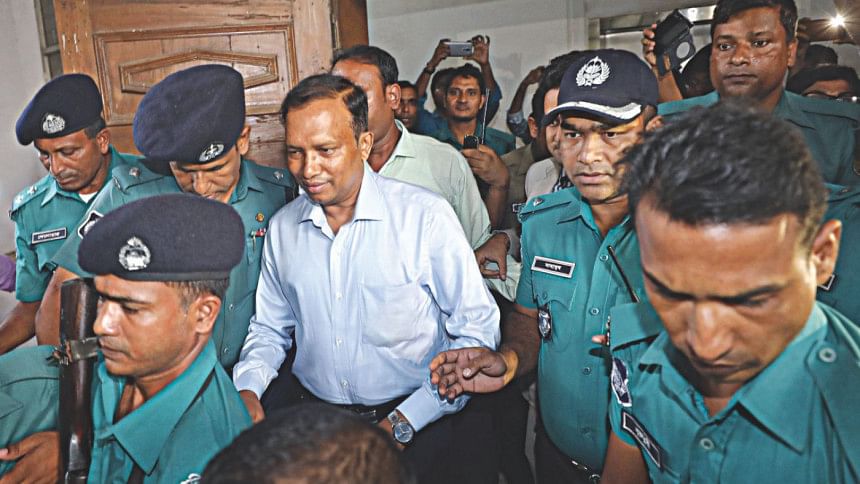 The Anti-Corruption Commission (ACC) will interrogate the bodyguard and the driver of suspended Deputy Inspector General (DIG) of police Mizanur Rahman over bribery allegation tomorrow.
Bodyguard Hridoy Hasan and driver Saddam Hossain were asked to appear at the ACC headquarters on July 7 to face the grilling, ACC public relations officer Pranab Kumar Bhattacharya said.
Earlier on July 1, the national anti-graft body sent a letter to suspended DIG Mizan asking him to turn up at 10 am on July 8 for interrogation as he skipped the grilling on Monday (July 1) citing personal reasons.
A private TV channel reported recently that Mizan gave Tk 40 lakh to Anti-Corruption Commission (ACC) Director Khandaker Enamul Basir to get clean chit in a corruption case.
Top-ranking police officer Mizanur Rahman amassed Tk 3.28 crore illegally between 1998 and 2018, according to the probe conducted by ACC.
The deputy inspector general (DIG) of police made the money by taking bribes and committing corruption.
DIG Mizan was an additional commissioner of Dhaka Metropolitan Police (DMP). He was withdrawn on January 9 last year following the allegation of threatening a female news presenter of a private television channel.
He had also reportedly married a woman forcibly and tortured her. Mizan allegedly picked up 25-year-old woman in July, 2017 and then forcibly married her.