Drive begins to evict illegal river port in Pabna
A team of Bangladesh Inland Water Transport Authority (BIWTA) began a drive to evict an illegal river port in Pabna's Bera upazila this morning.
The port has been run by Bera municipality Mayor Abdul Baten, also president of Bera Awami League.
The BIWTA team led by shipping ministry's Deputy Secretary Habibur Rahman Hakim started the drive around 9:00am and demolished its six ghats on the bank of the Hurasagor river, our Pabna correspondent reports from the spot.
They detained five people from several cargo vessels anchored at the small river port established at Brishalikha, Habibur Rahman said.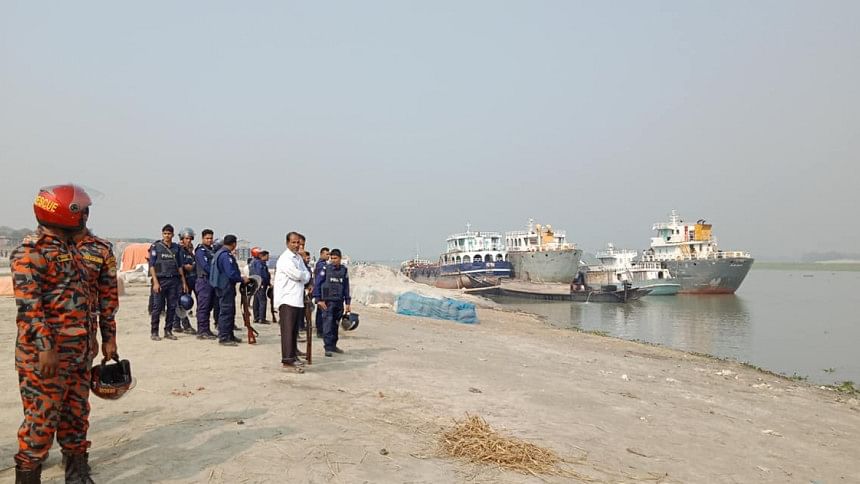 READ MORE: Mayor running illegal 'river port'
The team is now demolishing the roads approaching towards the port where cargo vessels and lorries are unloaded, he said around 11:00am.
Asked how long the drive will go on, the official said, "We will continue the drive until all the illegal structures are demolished".
Besides, they seized a huge amount of fertilisers stored there.
Municipality Mayor Abdul Baten constructed a one-storey building, bearing a signboard, reading, "Brishalikha Non-Government Raj Ghat", on the bank of the river to manage the loading and unloading of goods from vessels and lorries.
On the other hand, the state-run Baghabari River Port, only about 10km away, is being deprived of revenue due to the diversion of river traffic to the unregulated "port", according to the BIWTA officials.
According to rules, only the BIWTA can operate a river port.