3 more GM brinjal varieties to be released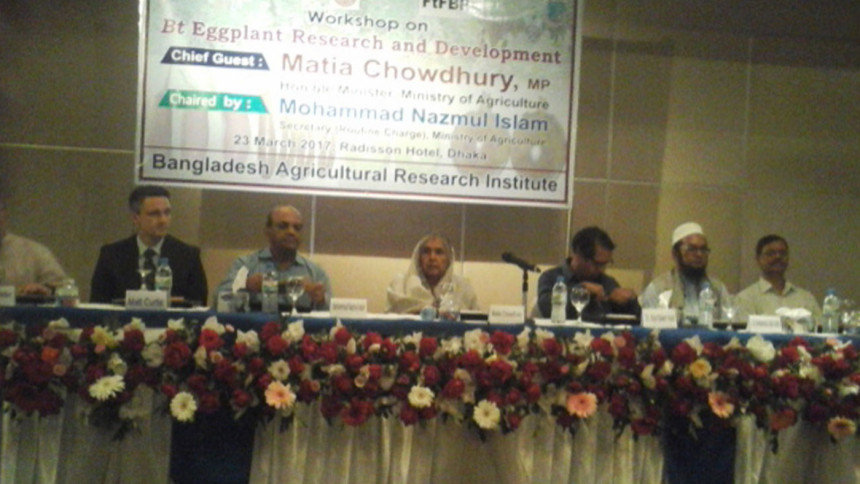 Bangladesh Agricultural Research Institute (BARI) will release three more varieties of the country's first genetically modified (GM) crop--Bt Brinjal, which is infused with a pest-resistant gene.
BARI Director General Dr Abul Kalam Azad made the announcement at a workshop on "Bt Eggplant Research and Development," at a hotel in Dhaka today.
"Bt technology is not a panacea. It works only against shoot and fruit borer. For other diseases, we must manage using other mechanisms," he added.
Addressing the occasion, Agriculture Minister Matia Chowdhury said that government is ready to accept any advanced technology keeping in mind the safety of the people.
Currently, around 6,000 farmers in 36 districts are cultivating four Bt Brinjal verities--- BARI Bt (Uttara), BARI Bt (Kajla), BARI Bt (Nayontar) and ISD006 Bt BARI.
Farmers from Rajshahi, Rangpur, Pabna and Gazipur started cultivating the Bt Brinjal for the first time in 2014. With the journey of cultivating Bt Brinjal, Bangladesh has joined a group of 29 countries that grow GM crops.
BARI Chief Scientific Officer ASM Mahbubur Rahman Khan gave a presentation on "Performance of Bt Brinjal varieties at Farmers Field" and Prof Anthony M Shelton, director of Feed the Future South Asia Eggplant Improvement Project from Cornell University, also spoke at the function.