Human rights remain at alarming level: Report
Sharp rise in repression and rape of women; rights situation remains alarming, ASK says in its annual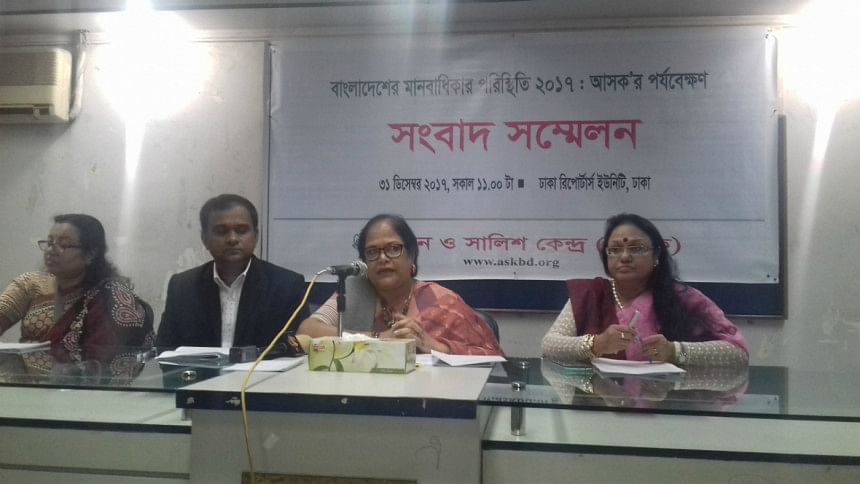 The overall human rights situation across Bangladesh remained at an alarming level throughout 2017, Ain O Salish Kendra (ASK) said today in its annual report.
It said, the number of rape, sexual assault and incidents of violence against women were higher in 2017 than last year. 
A total of 818 women were raped across the country, among which 47 were killed after rape and 11 committed suicide. In 2016, a total of 659 women were raped, according to the report.
Whereas, 255 women were victims of sexual assaults this year, a figure which was 244 in 2016. Among those, 12 committed suicide, and three women among 13 were killed as they tried to protest.
A total of 303 women became victims of violence over dowry, among which 145 were killed and 10 committed suicide. Also, 441 women were victims of domestic violence, including 270 being killed by in-laws and 34 being killed by own family members, while 57 committed suicide.
Besides this, 10 women became victims of fatwa, 43 house helps were tortured among which 26 died, and 32 women were victims of acid throwing which saw death of one.
However, as per the findings, extrajudicial killing, enforced disappearance, killing in political violence and repression of minorities decreased in 2017 compared to that of the previous year.
The report, also praised the government's initiative to implement the seventh Five Years' Plan to ensure sustainable development goals (SDG) and include private sector in accomplishing the 169 SDGs at the field level.
Bangladesh has also moved forward in 2017 in alleviating poverty, tackling hunger and malnutrition, solving power and energy crisis, ensuring pure water and proper sanitation, and combating climate change, ASK said in the report. 
It also praised the government's efforts in giving shelter to the persecuted Rohingya minorities of Myanmar, delivery of verdict in Narayanganj 7-murder case, approval of draft of The Dowry Prohibition Act- 2017, etc.
CHILD TORTURE AND KILLING
A total of 1675 children were victims of torture and killing this year, among which 339 were killed, 117 committed suicide, and 37 faced "mysterious deaths".  Also, there were 565 cases of sexual assault, rape, and harassment of children in 2017.
The figure was 415 in 2016 and 133 in 2015.
EXTRA-JUDICIAL KILLING, CUSTODIAL DEATH
A total of 162 people were killed in "crossfire", "shootout", and "gunfight" with law enforcement agencies and in their custody in 2017, which was lower than that of some 195 in the previous year. The number of such deaths was 192 in 2015 and 128 in 2014.
ENFORCED DISAPPEARANCE, SECRET KILLING
Arrest, abduction and detention by plainclothes men identifying themselves as law enforcers continued this year. However, the number of people who fell victim to enforced disappearance has fallen to 60 in 2017 compared to 97 last year.
Of them, 14 were shown arrested, and 16 others returned to their families. Two were found dead while the rest remained untraced.
POLITICAL VIOLENCE, LAW AND ORDER
Despite some improvement in the law and order situation, some incidents of assault by police on peaceful demonstrations, and of political violence took place this year. 
On July 20, 2017, policemen fired tear-gas shells at demonstrating students of seven government colleges in the capital, which were affiliated with Dhaka University, demanding announcement of final examination schedule, which saw a student of Government Titumir College, Siddiqur Rahman, lose his eyesight, ASK mentioned in the report.
Also, June 7, police officials barred women leaders and activists from organising a rally to mark the 21st anniversary of the abduction of Kalpana Chakma, a leader of indigenous people of the hill tracts. The incident saw the law enforcers assault the women activists and detention of 21 activists of Women's Federation, ASK said.
The rights body also mentioned the attack on BNP Chairperson Khaleda Zia and also her party's Secretary General Mirza Fakhrul's motorcade on their way to visit Rohingya refugee camps in Cox's Bazar.
REPRESSION ON RELIGIOUS MINORITIES
The repression of minorities decreased in 2017, as per the report.
A total of 258 cases of attacks on minorities including those Hindu community took place this year, which was 391 in 2016 and 317 in 2015.
The incidents included attack and vandalism of 212 Hindu idols, 45 houses and 21 businesses of people of Hindu community across the country, and killing of one Narayan Chandra Das in Hatiya of Noakhali over extortion.
FREEDOM OF EXPRESSION
Freedom of expression is constitutional right but it was violated on several occasions, ASK said, adding that government vigilance on different mass and social media under section 57 Information and Communication Technology (ICT) Act continued this year.
The rights body observed the proposed Digital Security Act also includes regulations similar to the section 57 of ICT Act, which hinders the freedom of expression of people.
A total of 54 people were sued under the section 57 of ICT Act this year, it said.
REPRESSION ON JOURNALISTS
A total of 122 journalists across the country faced repression and assault from by law enforcers, influential people, local representatives, criminals, political activists and government officials while performing their duty this year, which was higher than that of 117 in 2016.